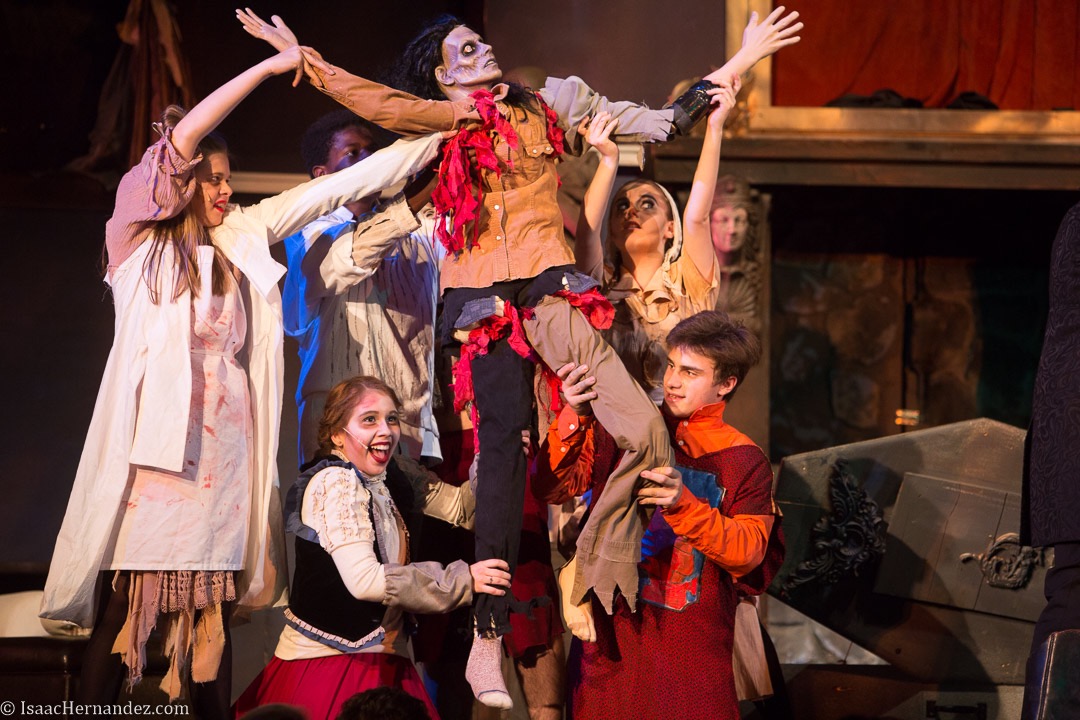 Photos Courtesy of Isaac Hernandez
Called "the Best Musical Theatre Company in Santa Barbara" by the SB Independent, Santa Barbara High School started the 2016-2017 season with a bang on November 4 with Mel Brooks' sidesplitting comedy Young Frankenstein. Continuing their focus on musical with their 10th straight musical, SBHS has garnered national attention as an innovative, creative force in high school musical theatre.
Young Frankenstein is based on the critically-acclaimed Mel Brooks film that was named "one of the funniest movies of all time" by the American Film Institute and features a Book by Emmy, Grammy, Oscar and Tony Award winner Brooks (The Producers) and multi-Tony Award winner Thomas Meehan (The Producers, Annie, and Hairspray), with Music and Lyrics by Brooks. Young Frankenstein has been called "Truly exhilarating!" (The New York Times); "Delightfully nutty! Glittering, buoyant fun that tickles its audience into high spirits!" (Los Angeles Times); "A highly entertaining musical-comedy spectacular featuring endless doses of Brooks' classic humor!" (Hollywood Reporter); and "A jolly monster of a show!" (Variety).
Young Frankenstein is the wickedly inspired re-imagining of the Frankenstein legend. The story follows young Dr. Frankenstein as he attempts to complete his grandfather's masterwork and bring a corpse to life. With his creepy servant, Igor, bombshell lab assistant, Inga, and madcap fiancée, Elizabeth, Dr. Frankenstein succeeds in creating a monster—but not without monstrous repercussions.
The team that brought you SPAMALOT, How to Succeed in Business Without Really Trying, and Pippin were back together in Young Frankenstein. Long-time collaborator Christina McCarthy, head of the University of California at Santa Barbara's Dance Department, returned to choreograph, while Dr. Jon Nathan, UCSB Jazz Ensemble, was the Musical Director. Sio Tepper, who was the Vocal Director for HAIR, performed those duties for this show. Costume Design for Young Frankenstein is by Resident Costume Designer Bonnie Thor (How To Succeed, The Mystery of Edwin Drood, Pippin, and Hair). The set for Young Frankenstein, complete with a dungeon laboratory, secret passages, and a roll in the hay, was designed by Otto Layman (who also directs), with technical assistance and construction provided by Technical Director Jonathan Mitchell. Light Design was by Mike Madden (many, many shows at SBHS, from Carnival to SPAMALOT and Big Fish)
Young Frankenstein opened November 4 at 7pm, with additional performances November 5 at 2pm and 7pm, November 11 at 7pm, November 12 at 2pm and 7pm, and closed on November 13 at 2pm.
Photos Courtesy of Isaac Hernandez