CLOSED MAY 8
April 29, 30, May 6, 7 at 7pm; April 30, May 7, 8 at 2pm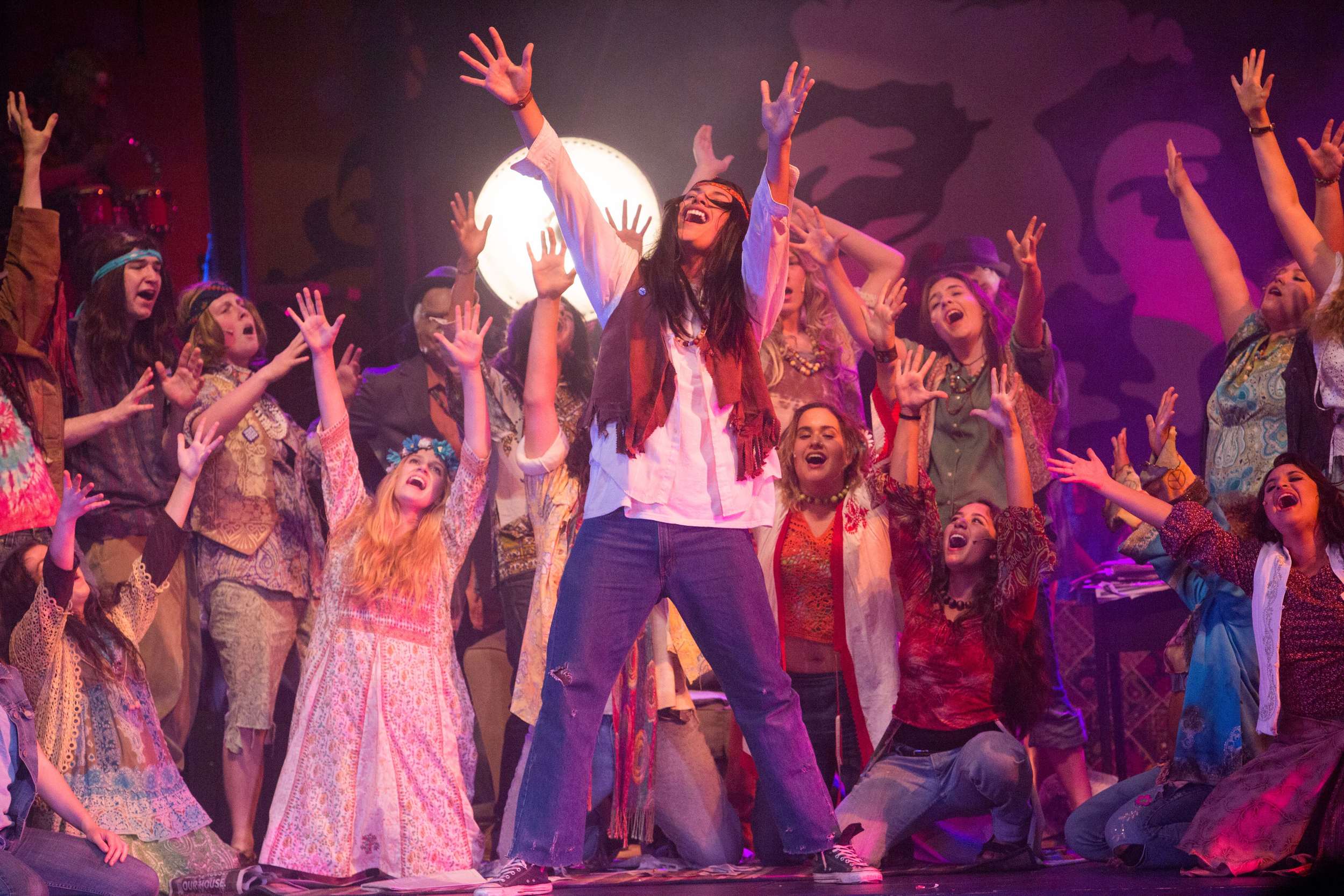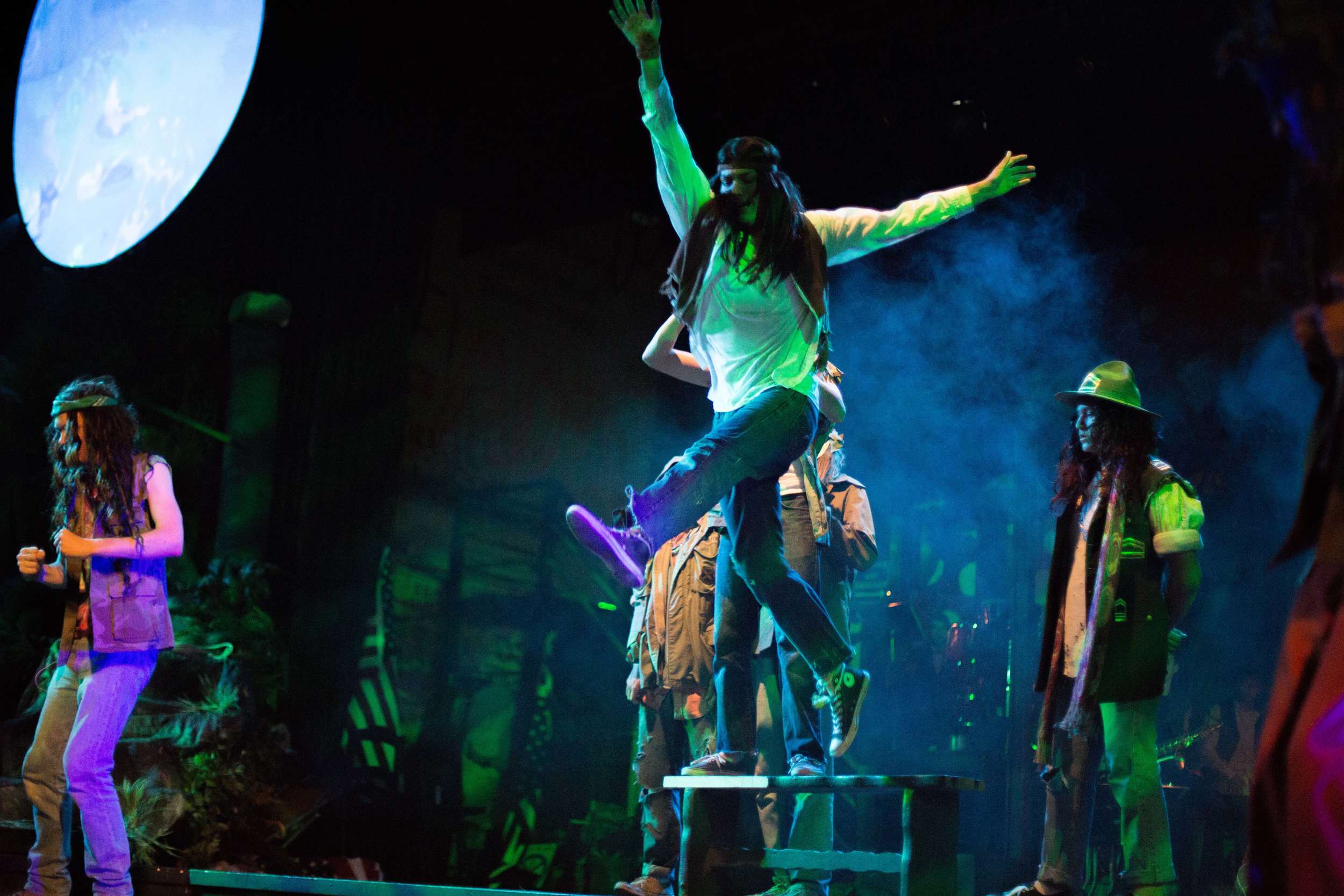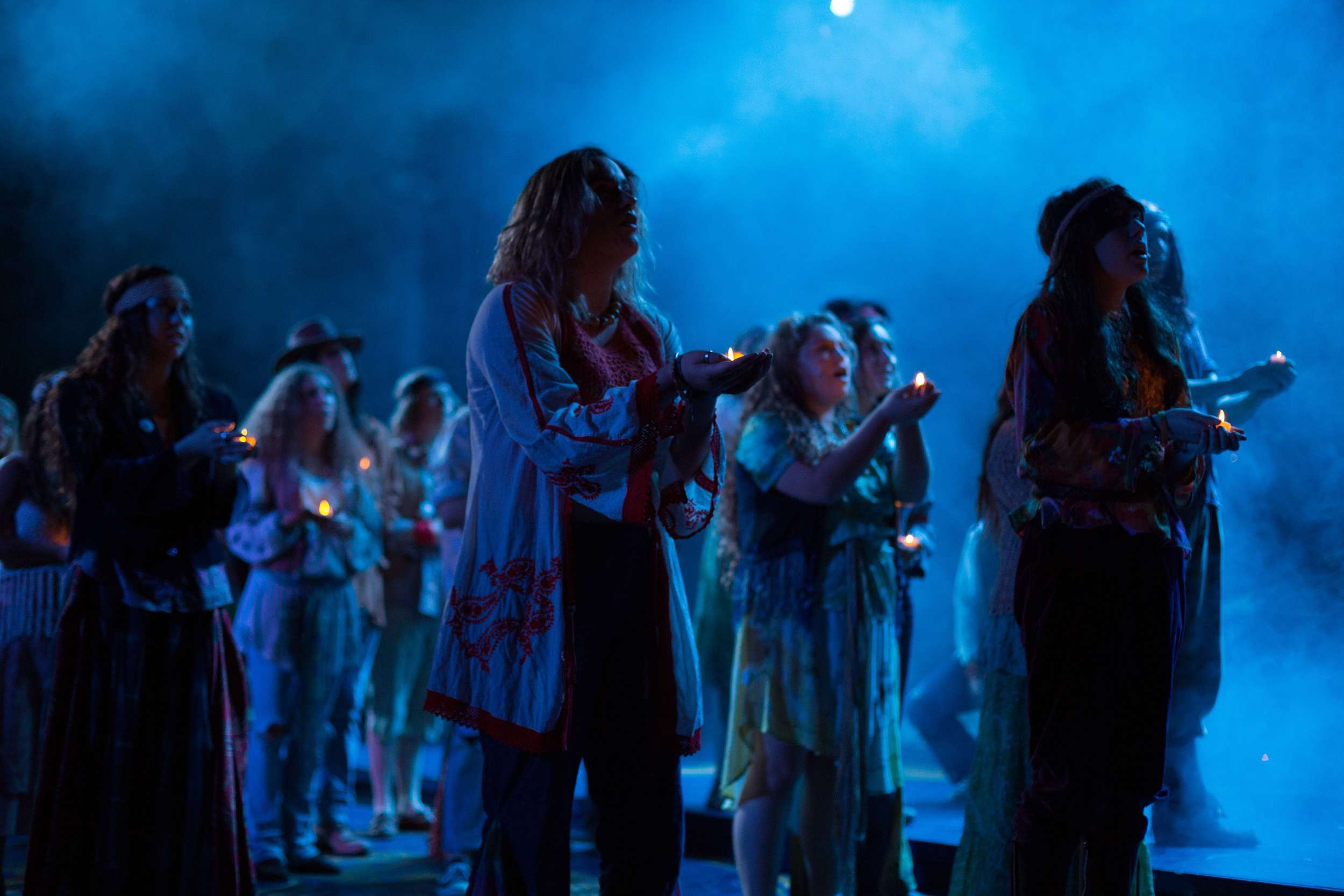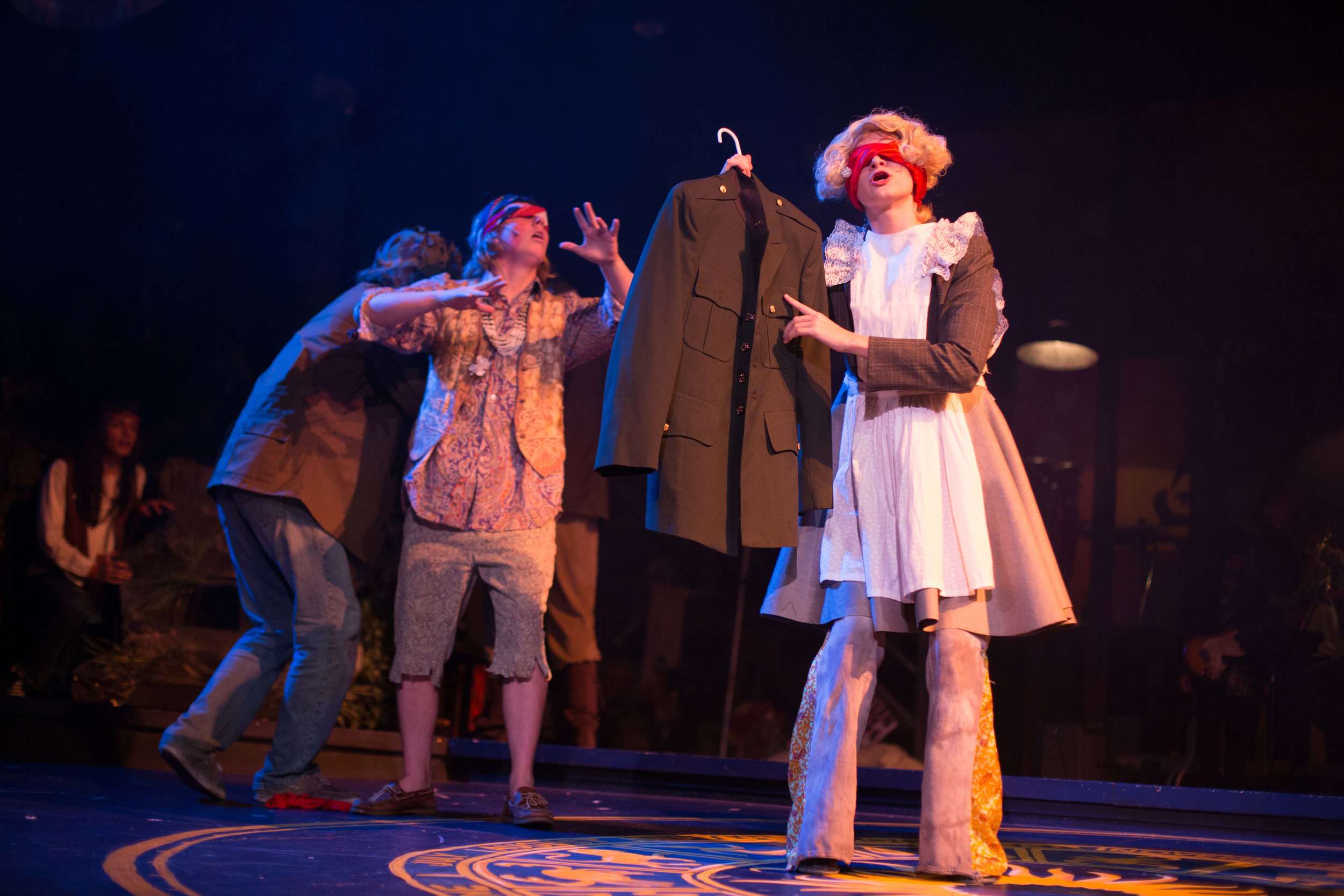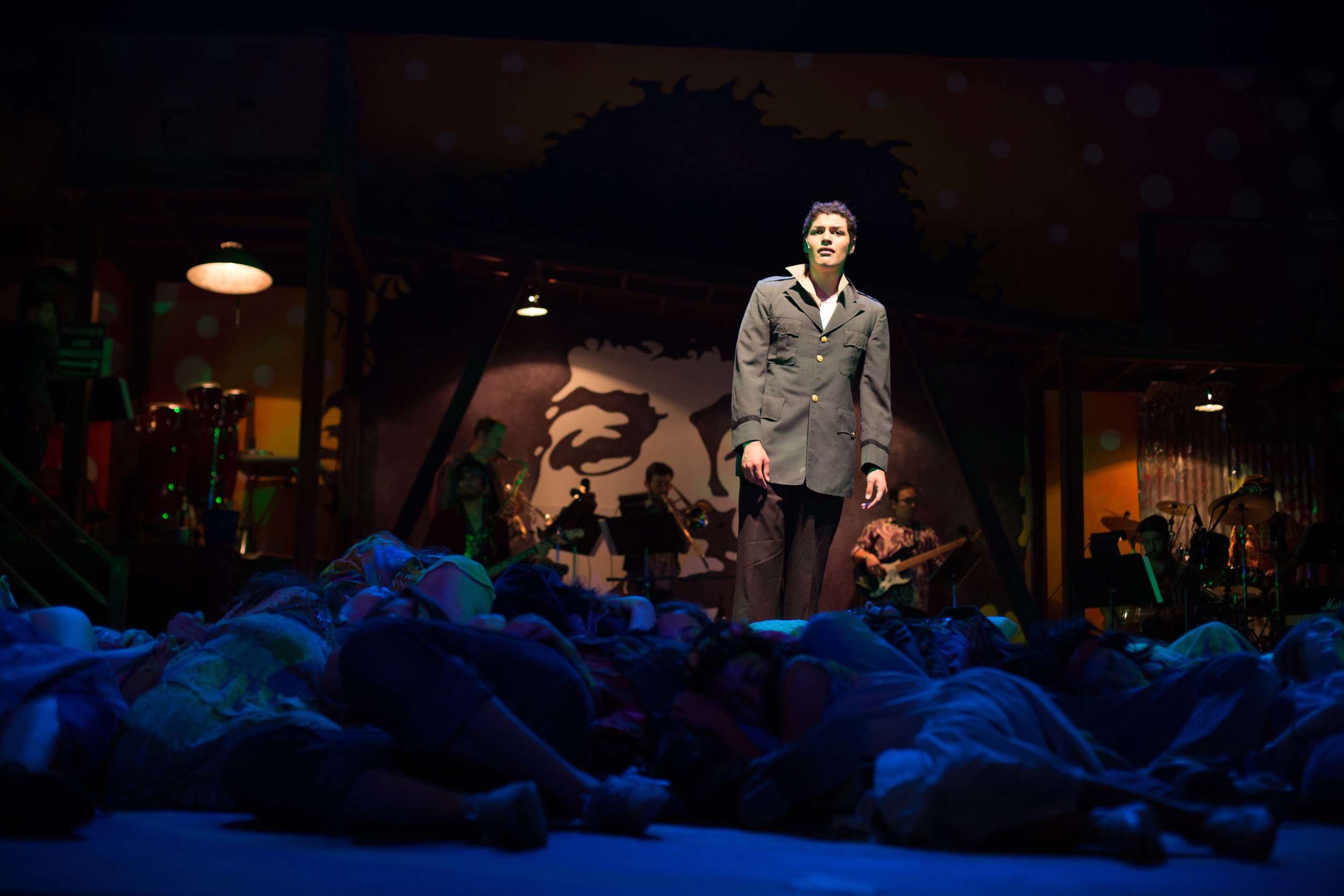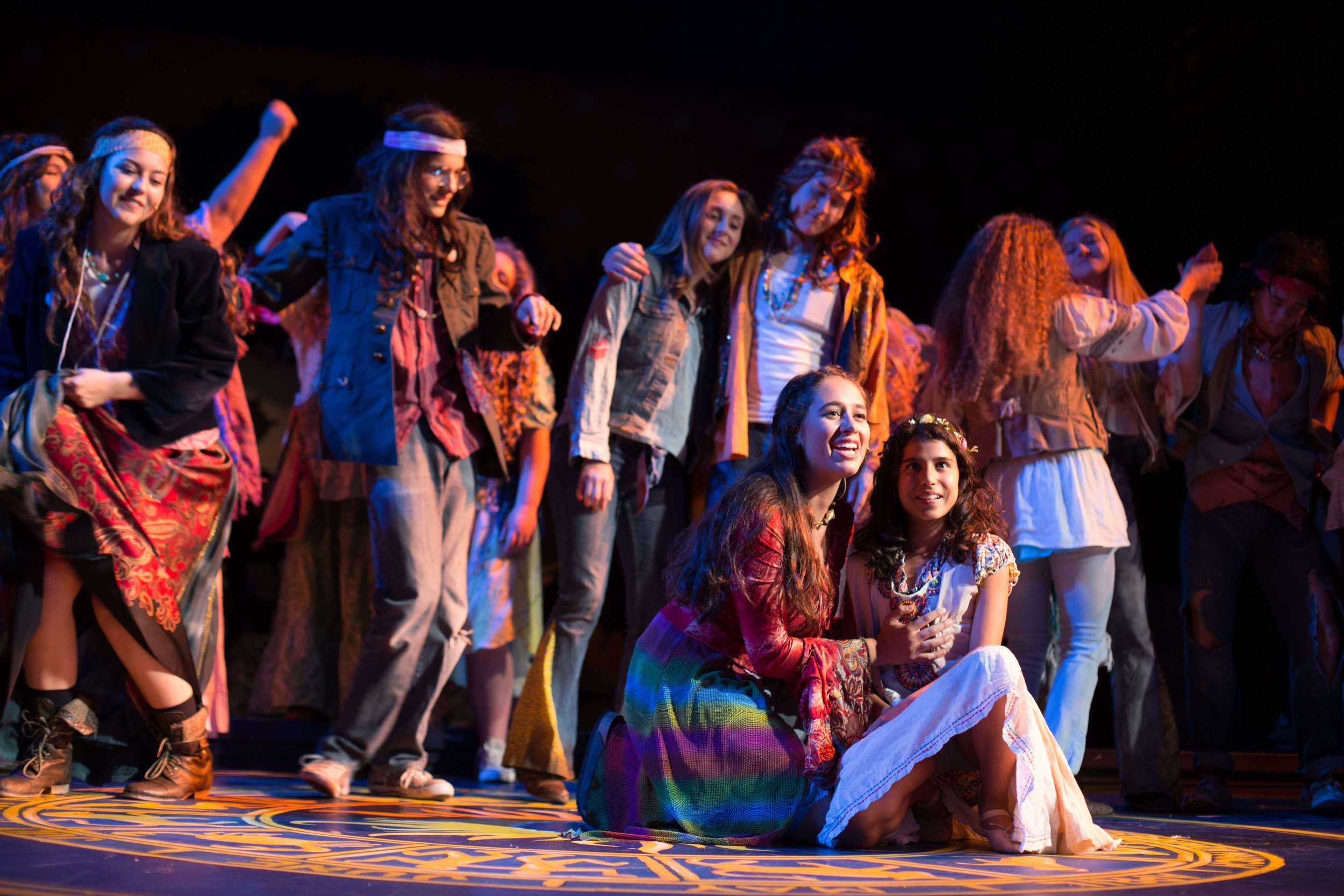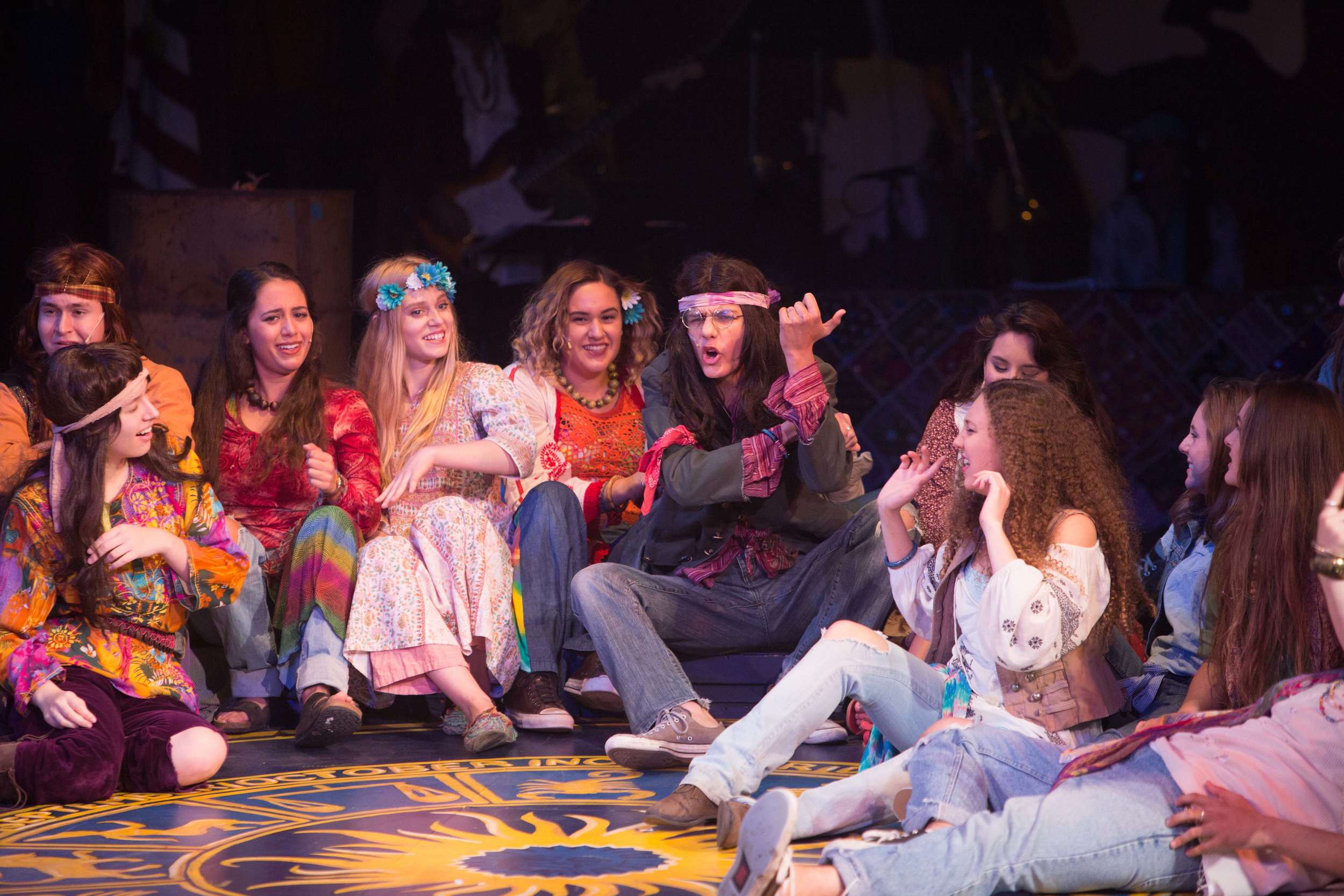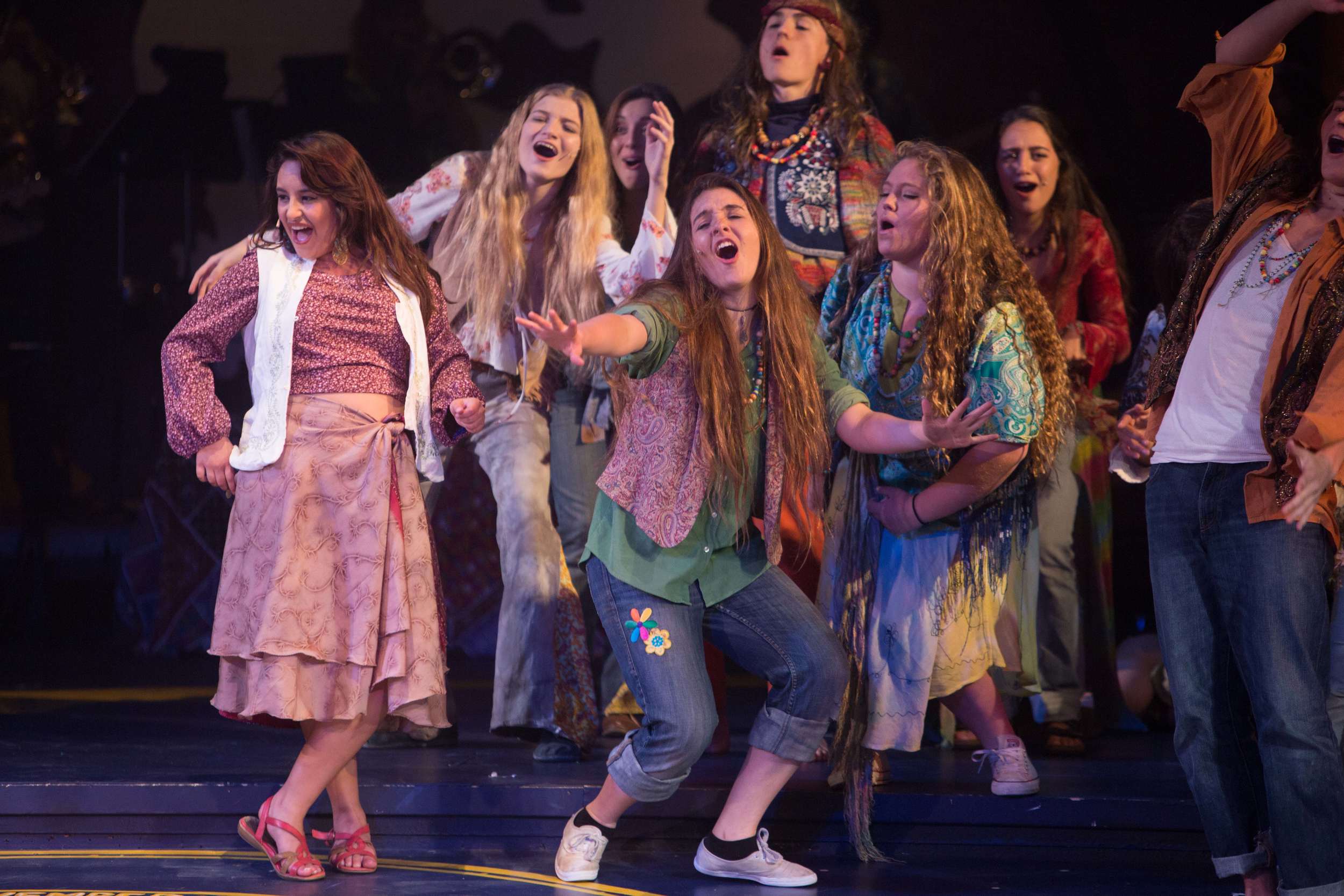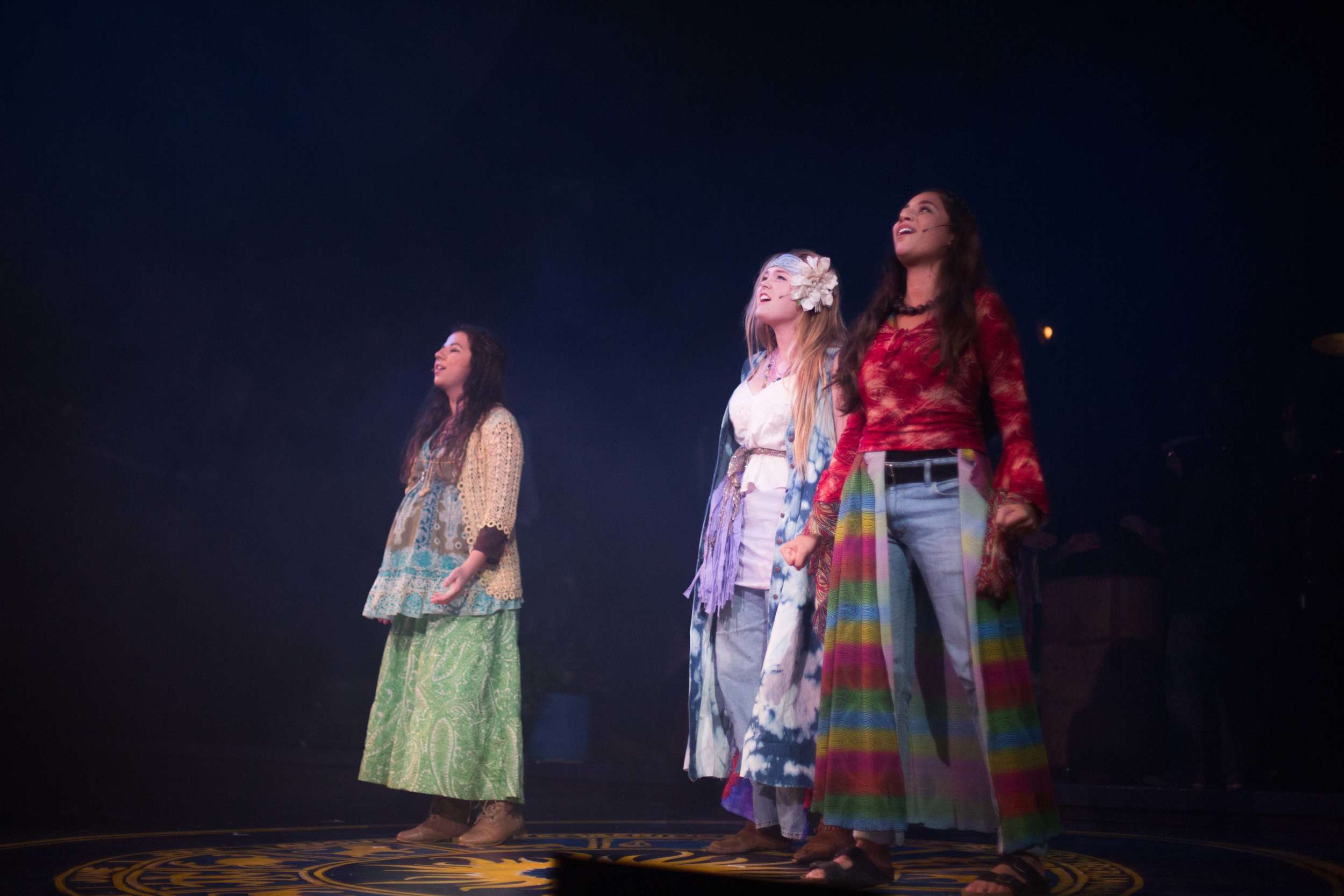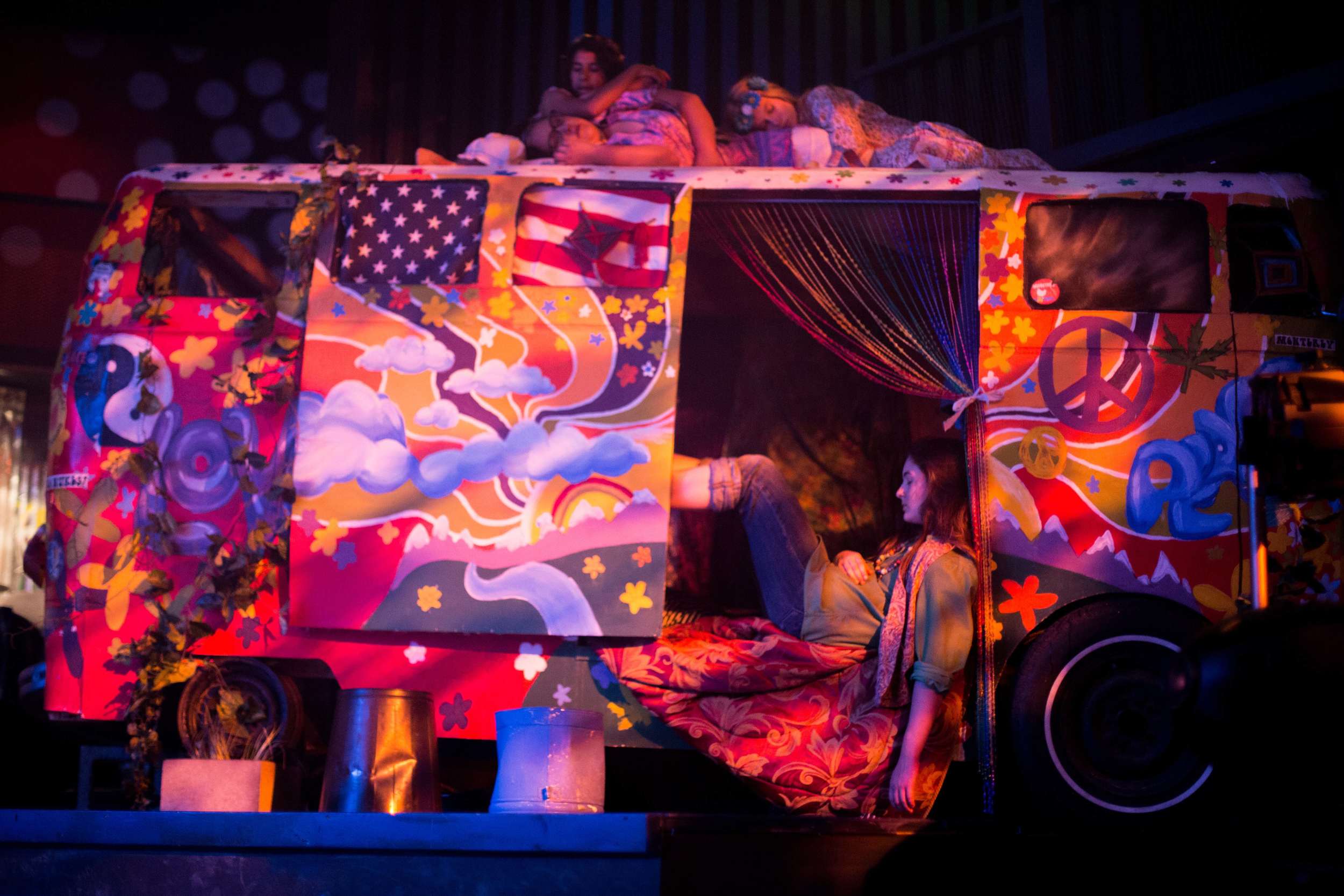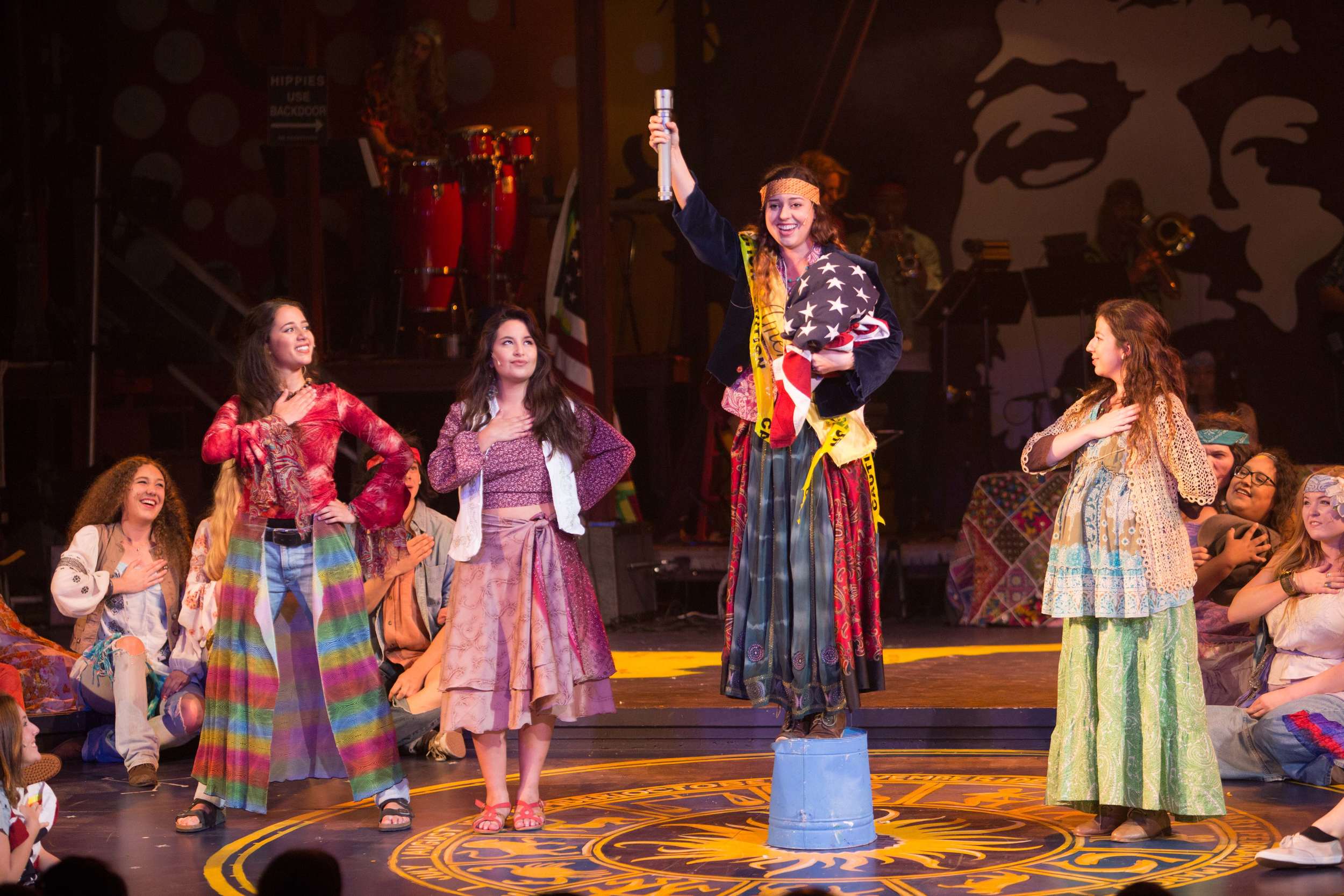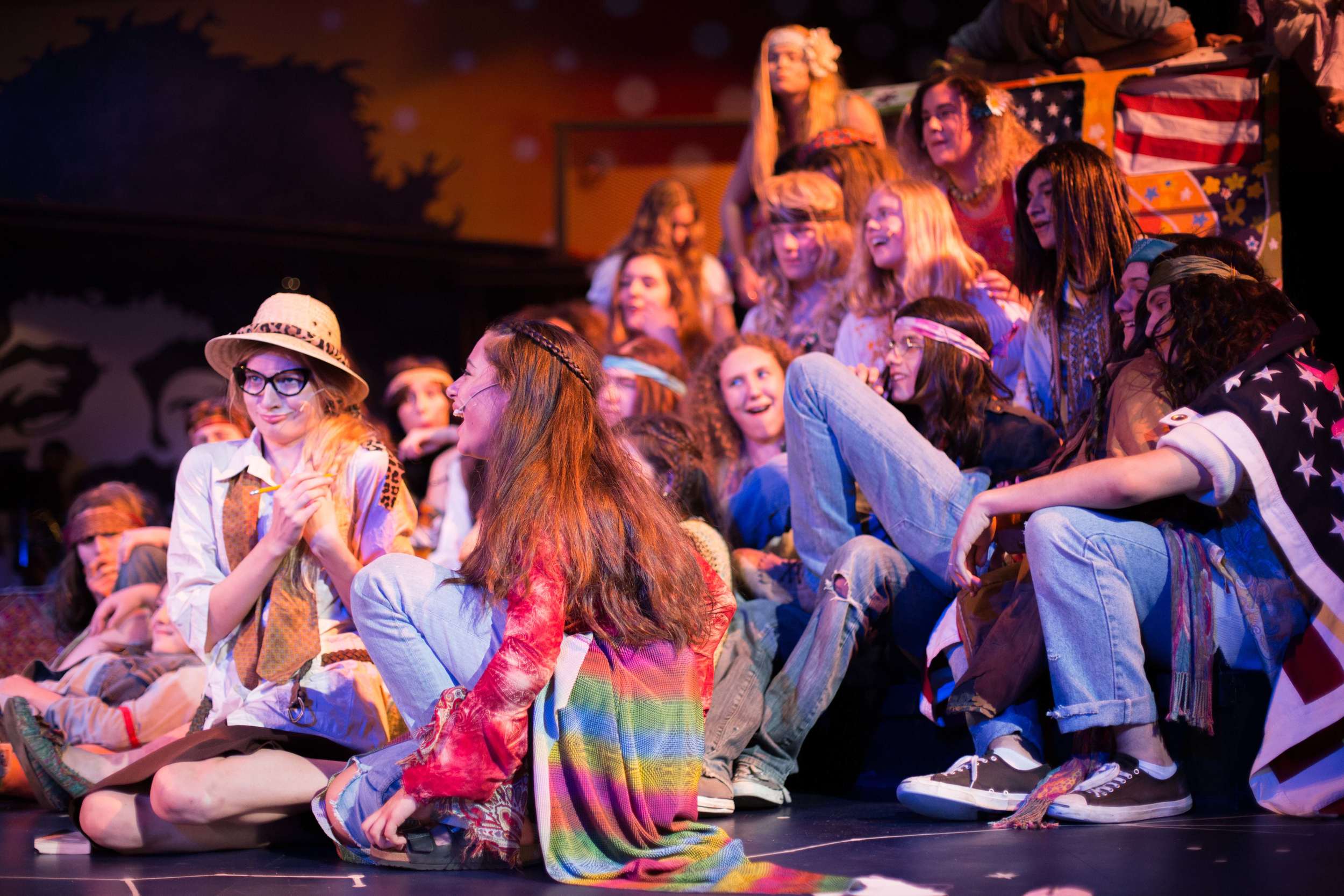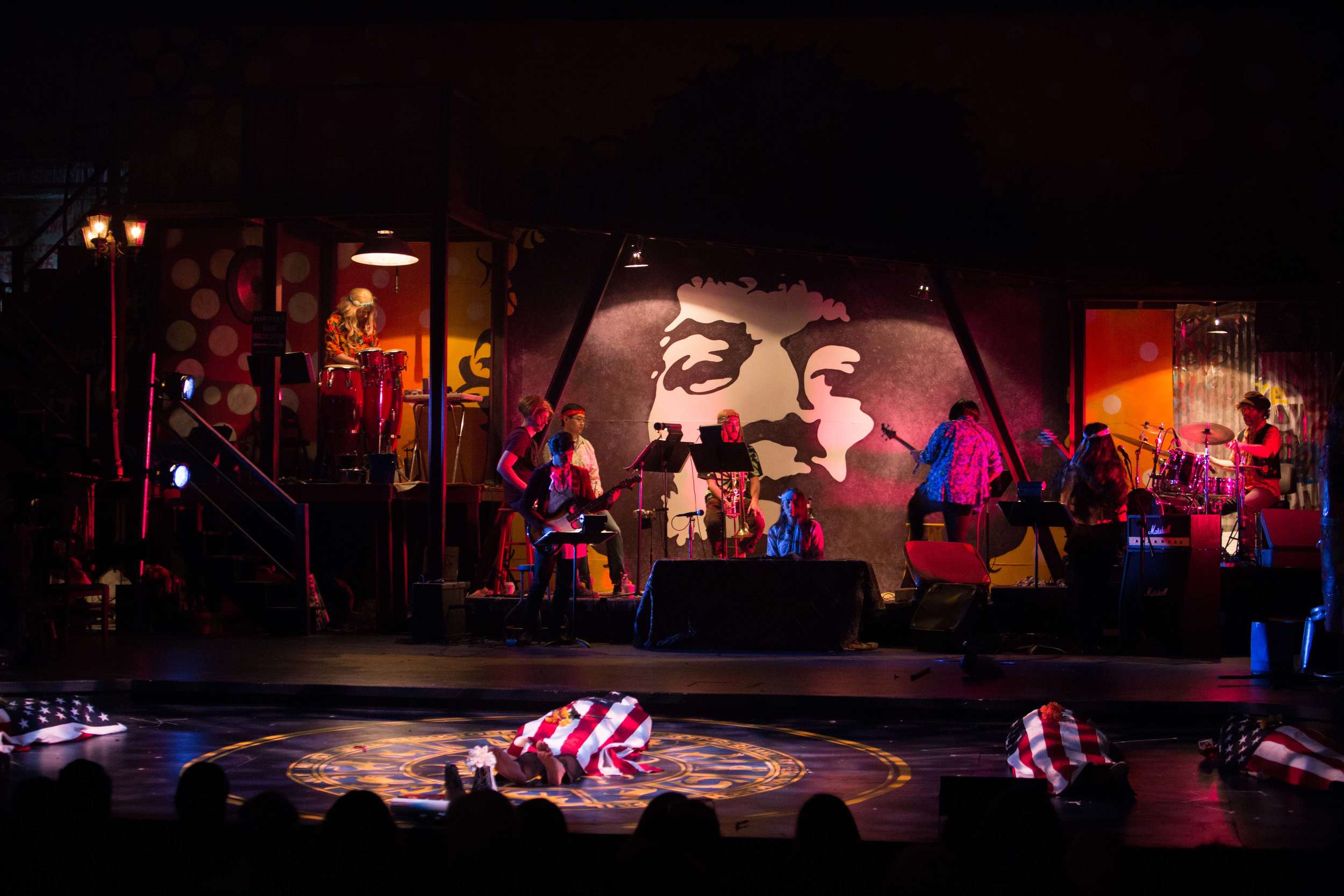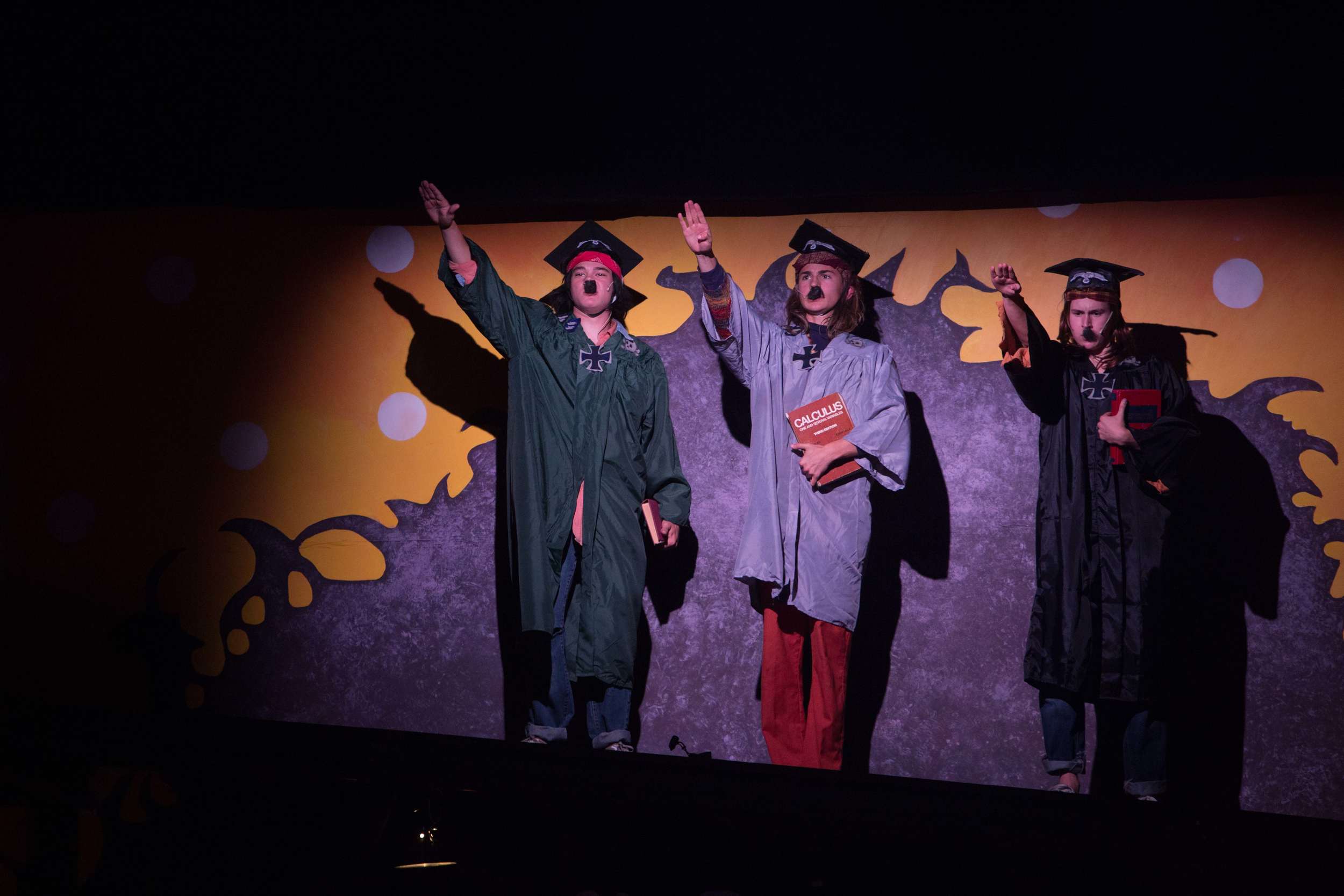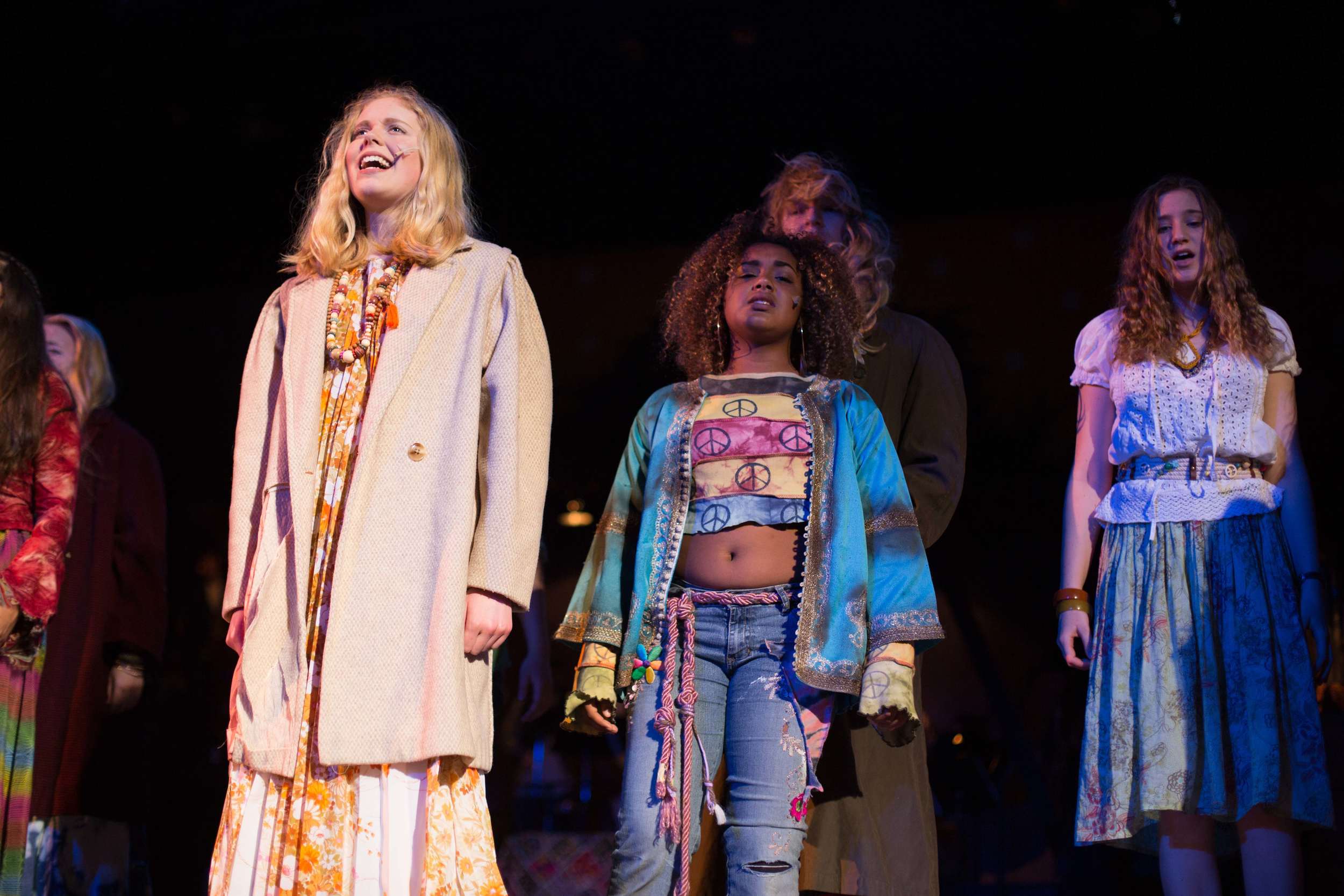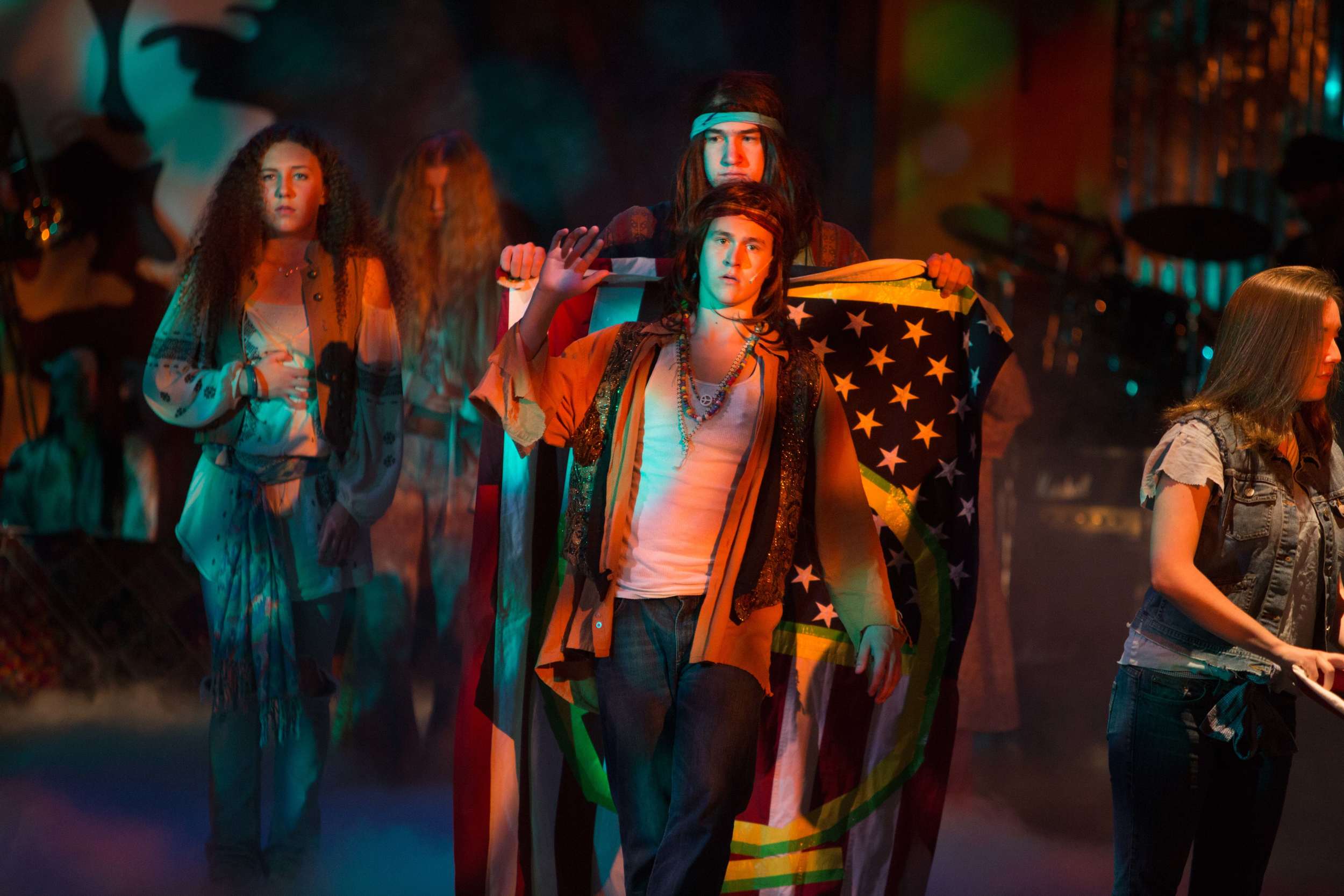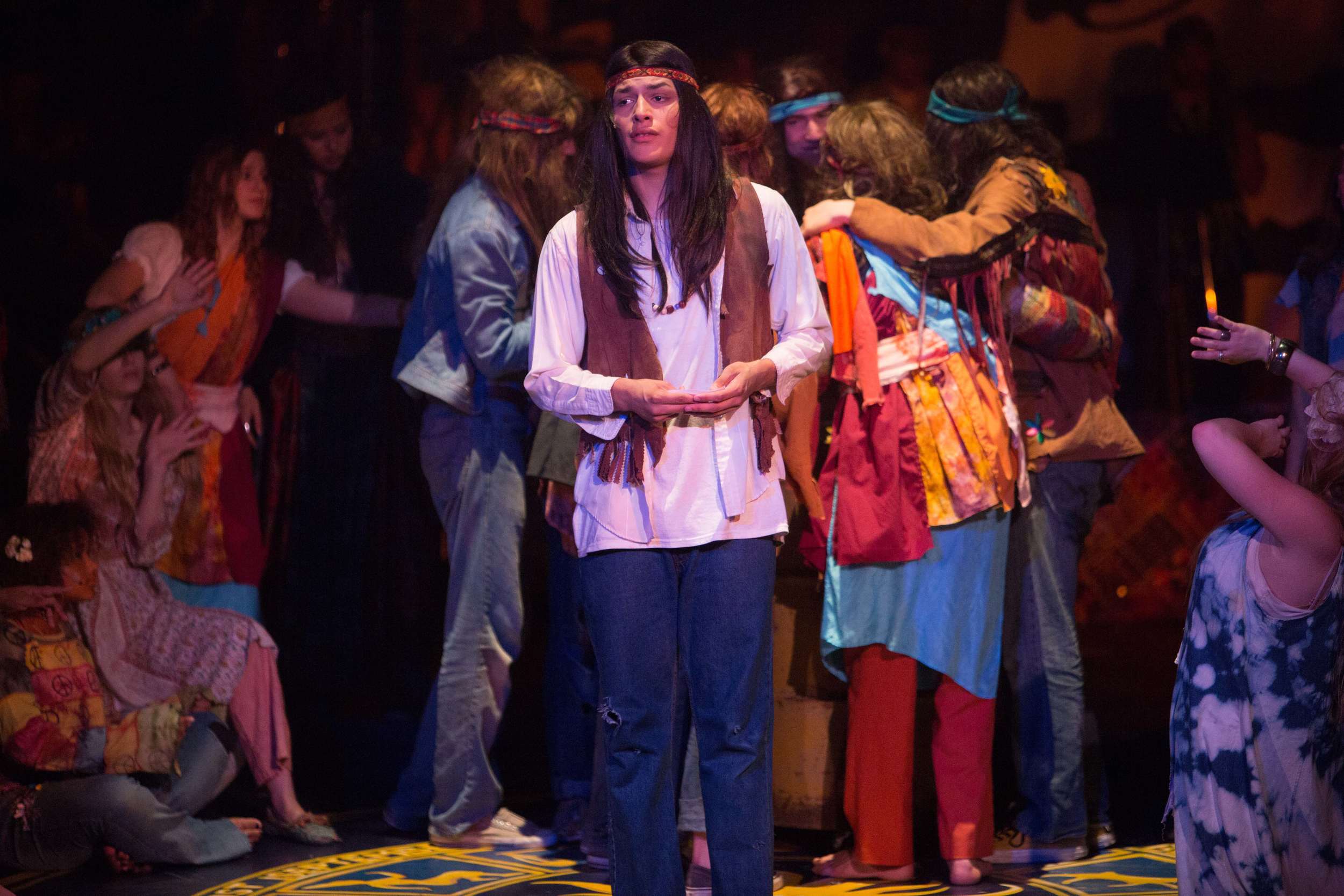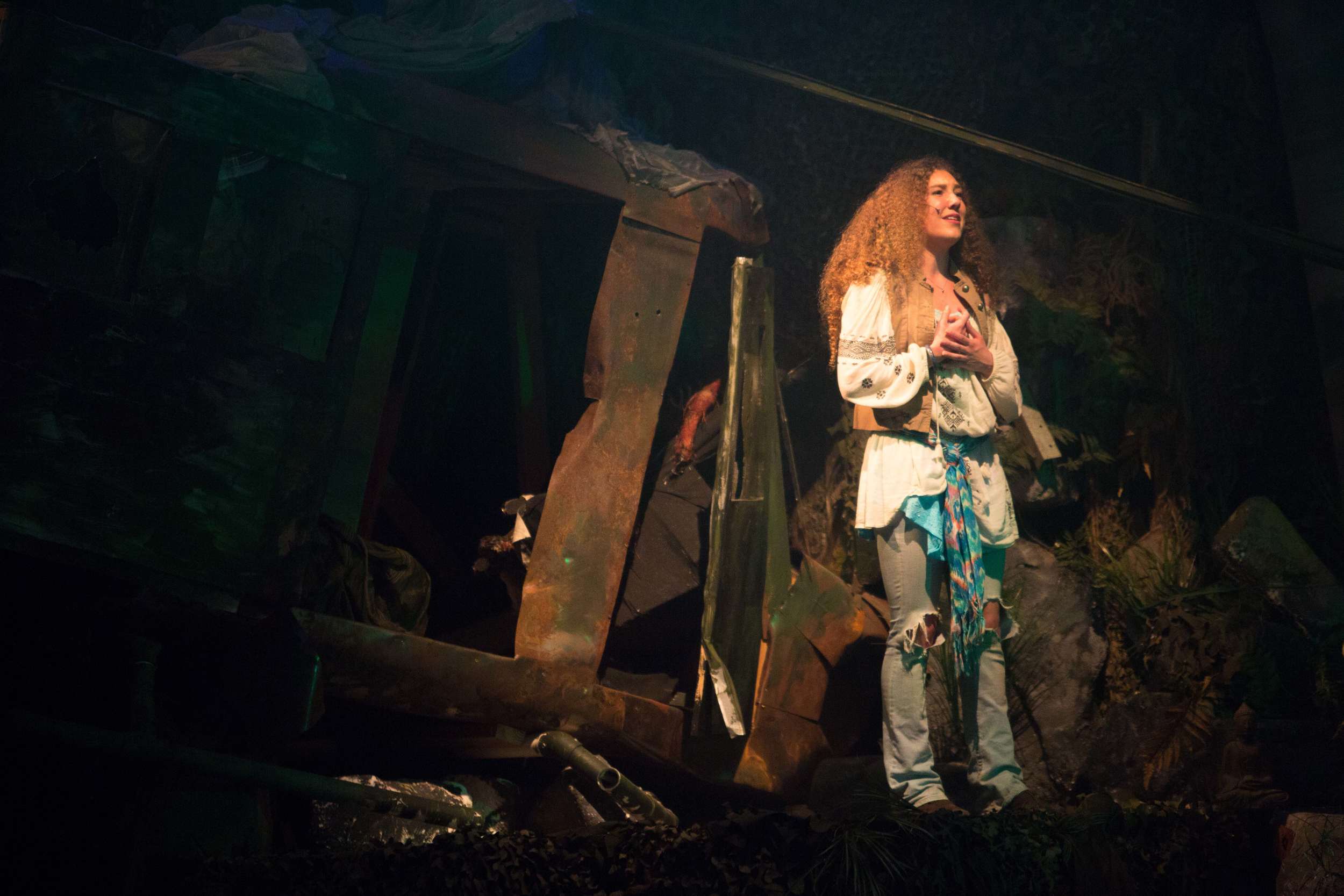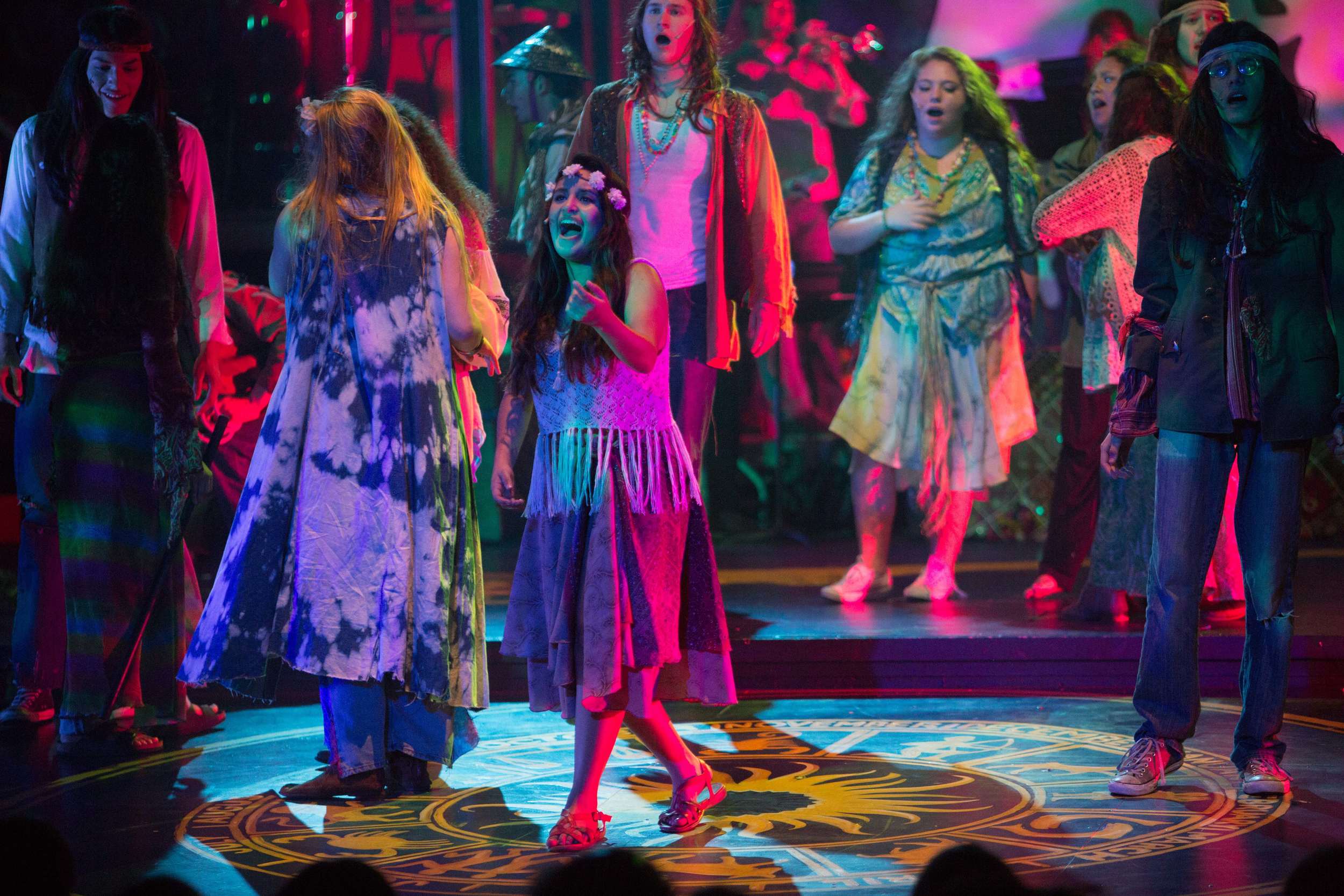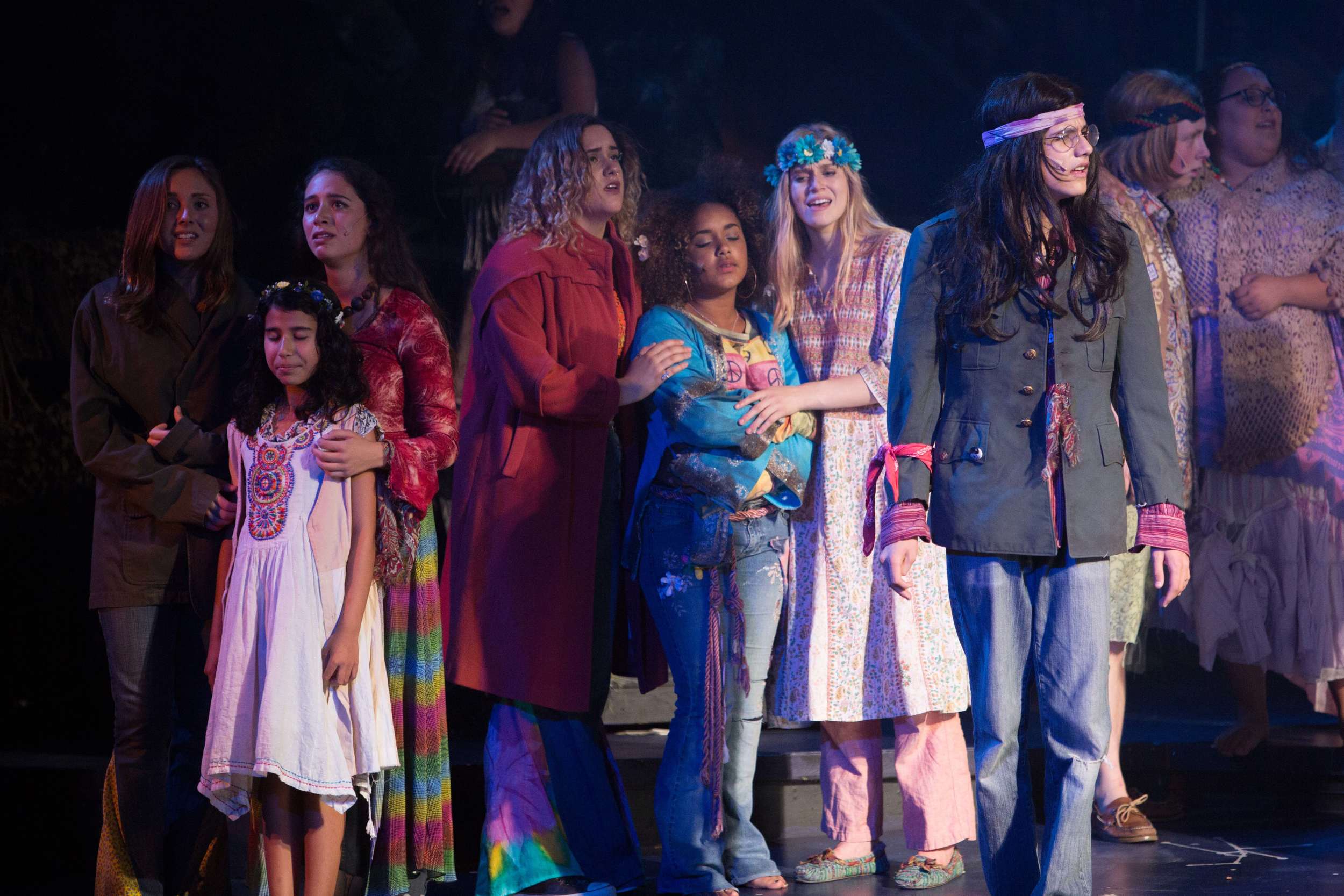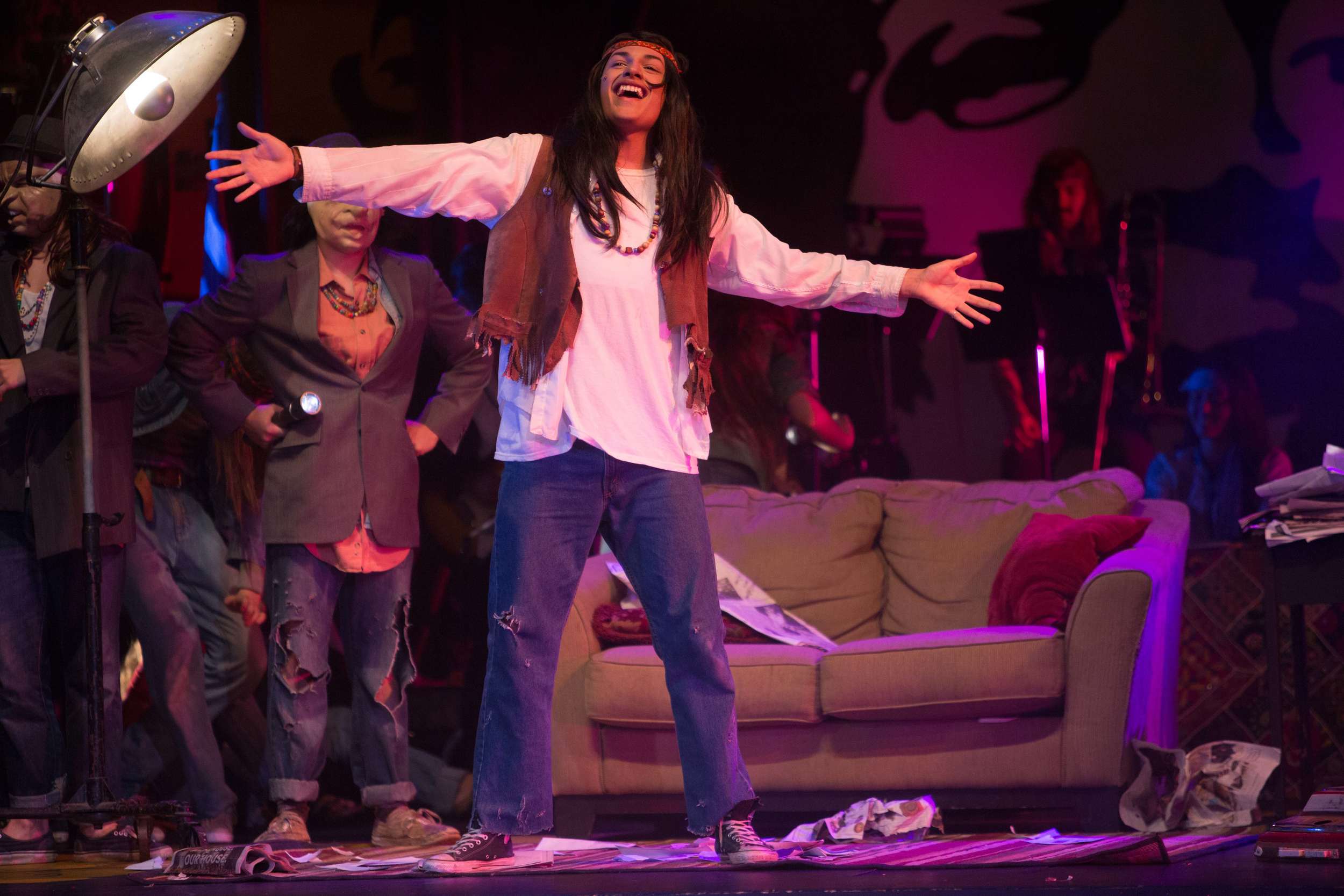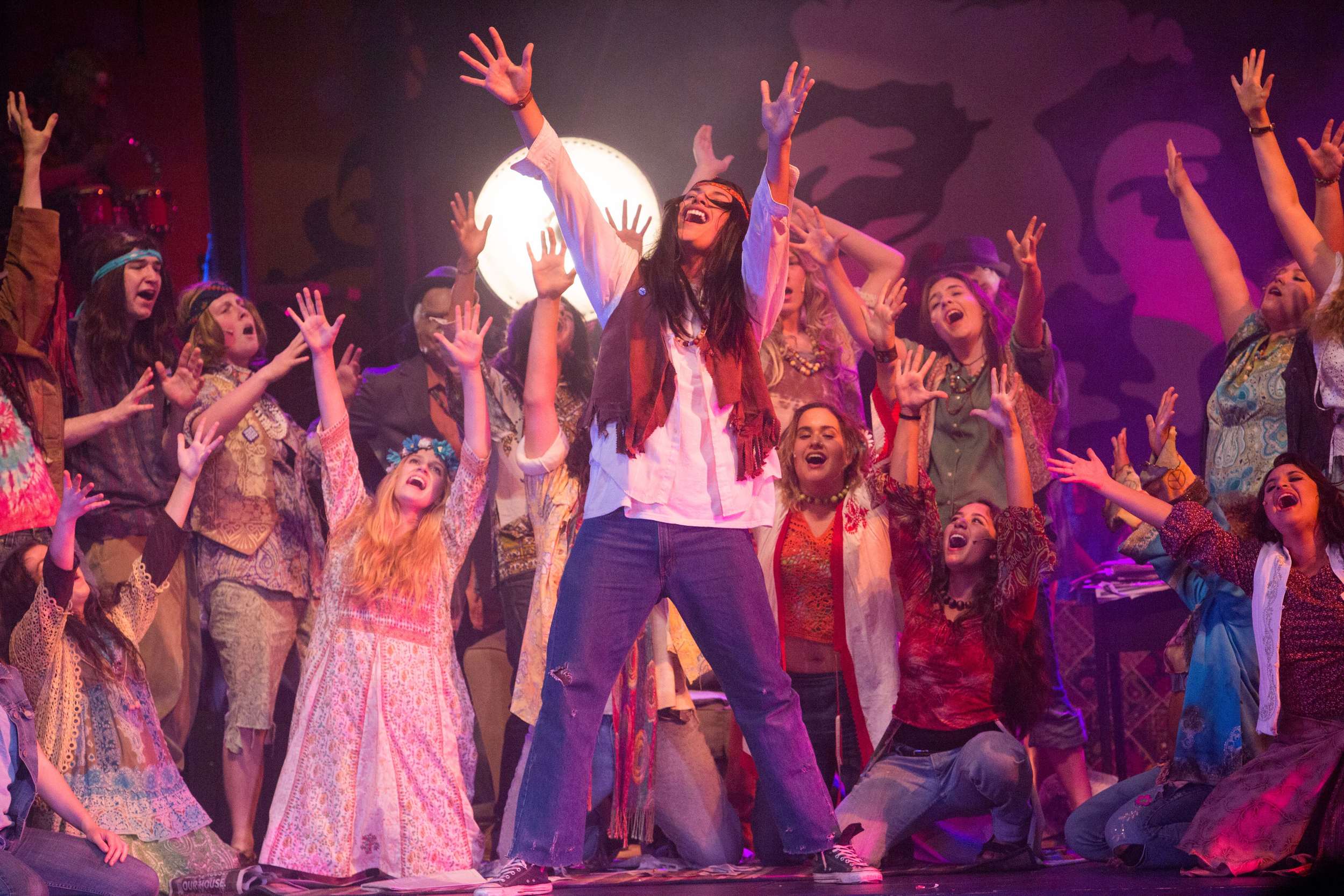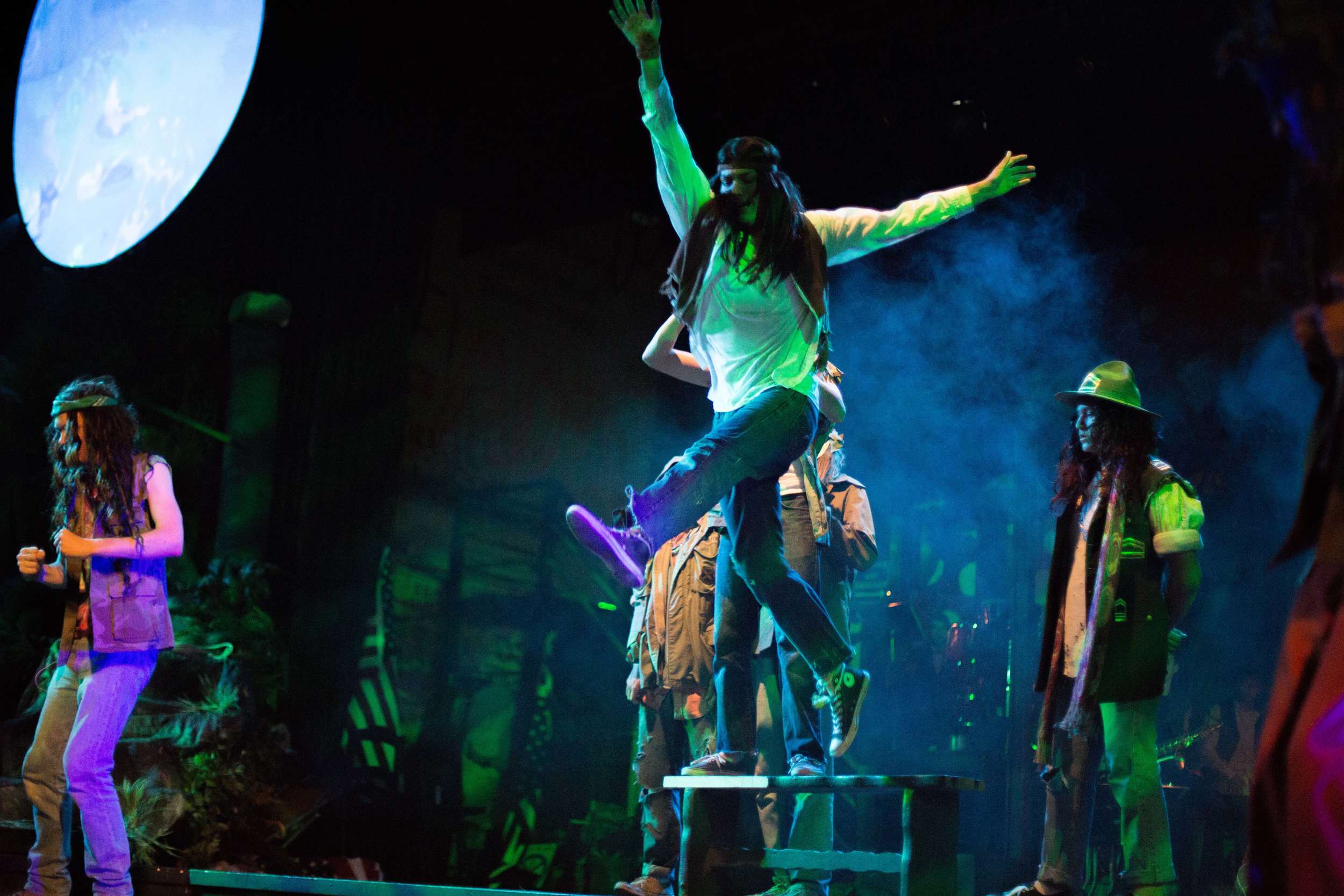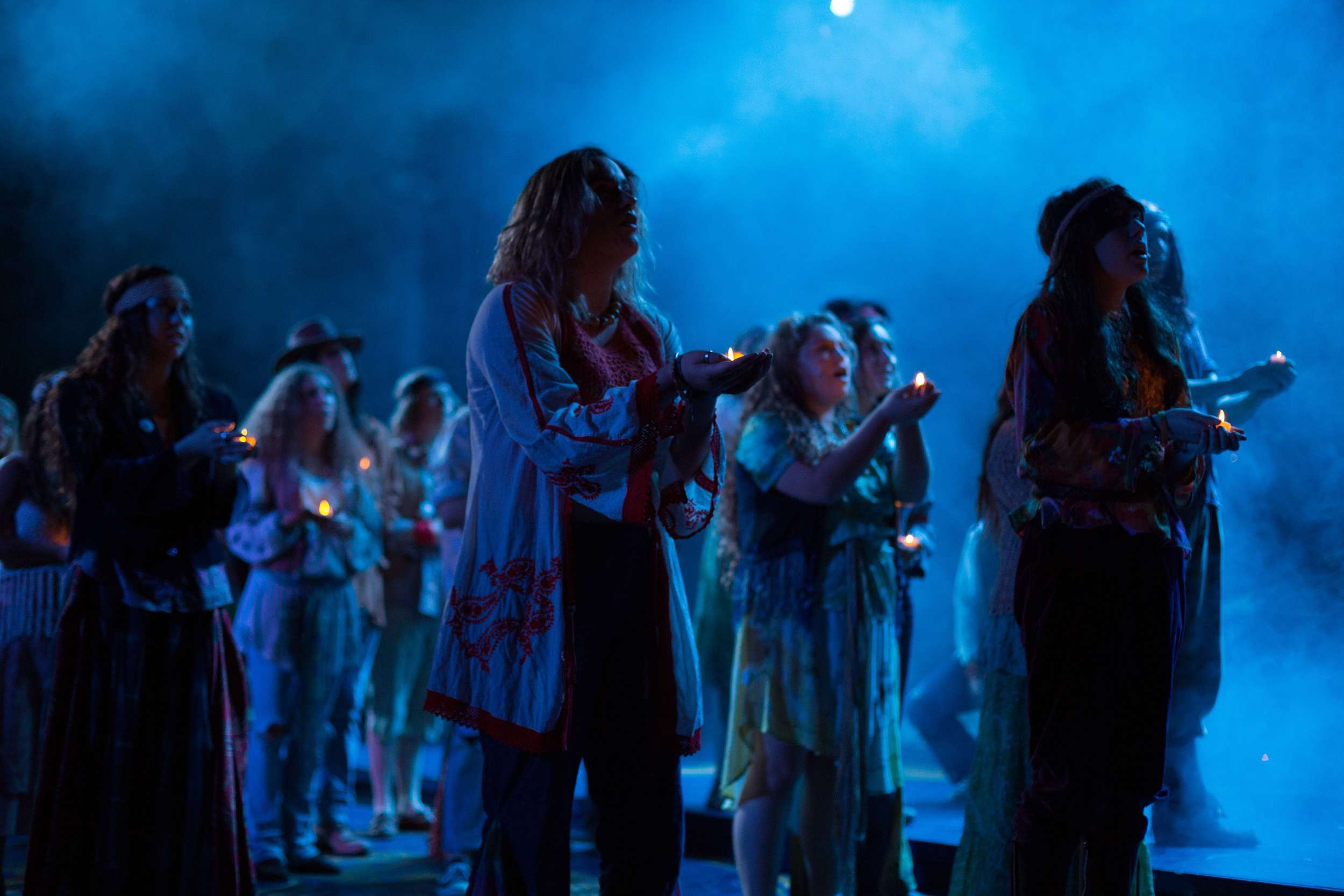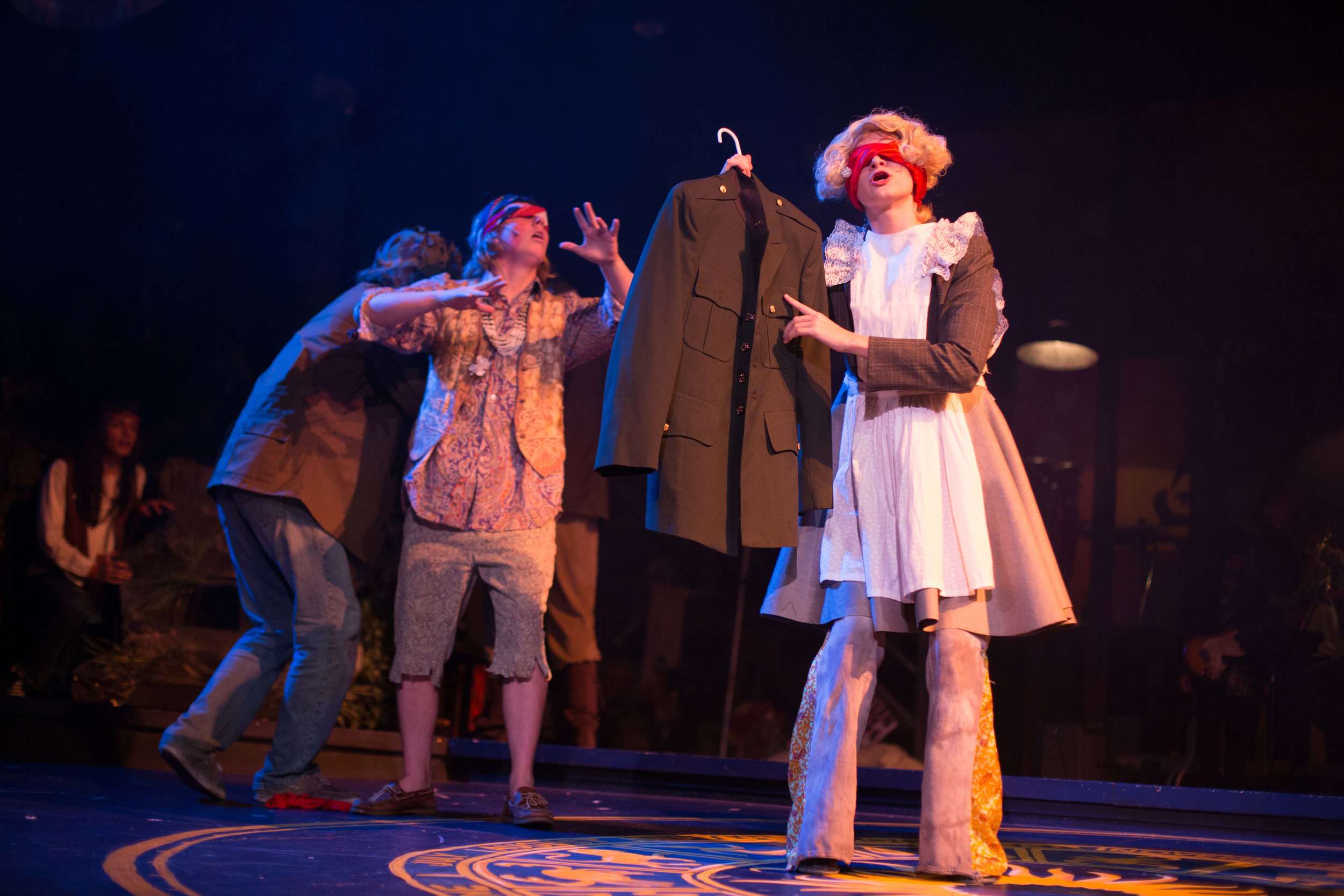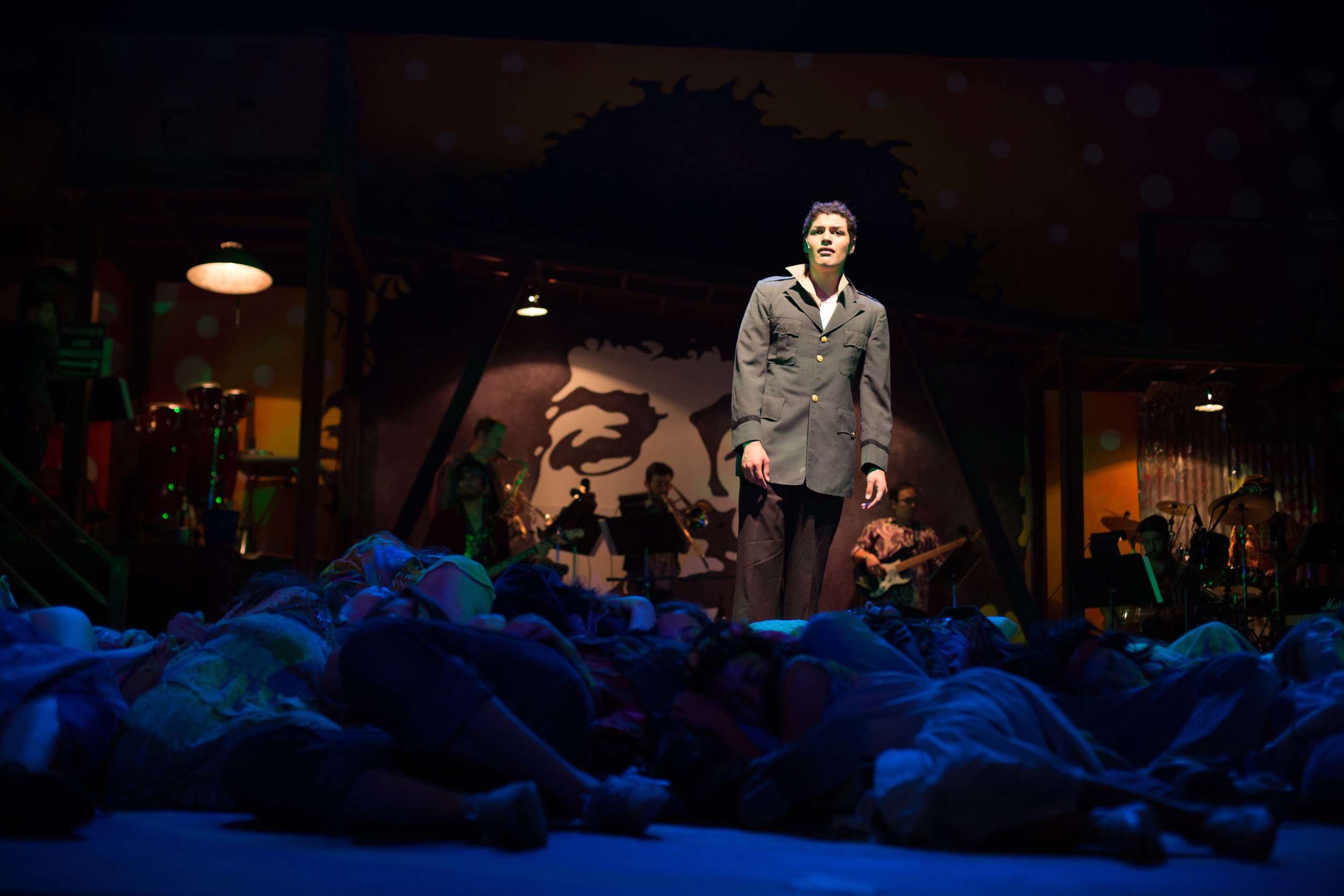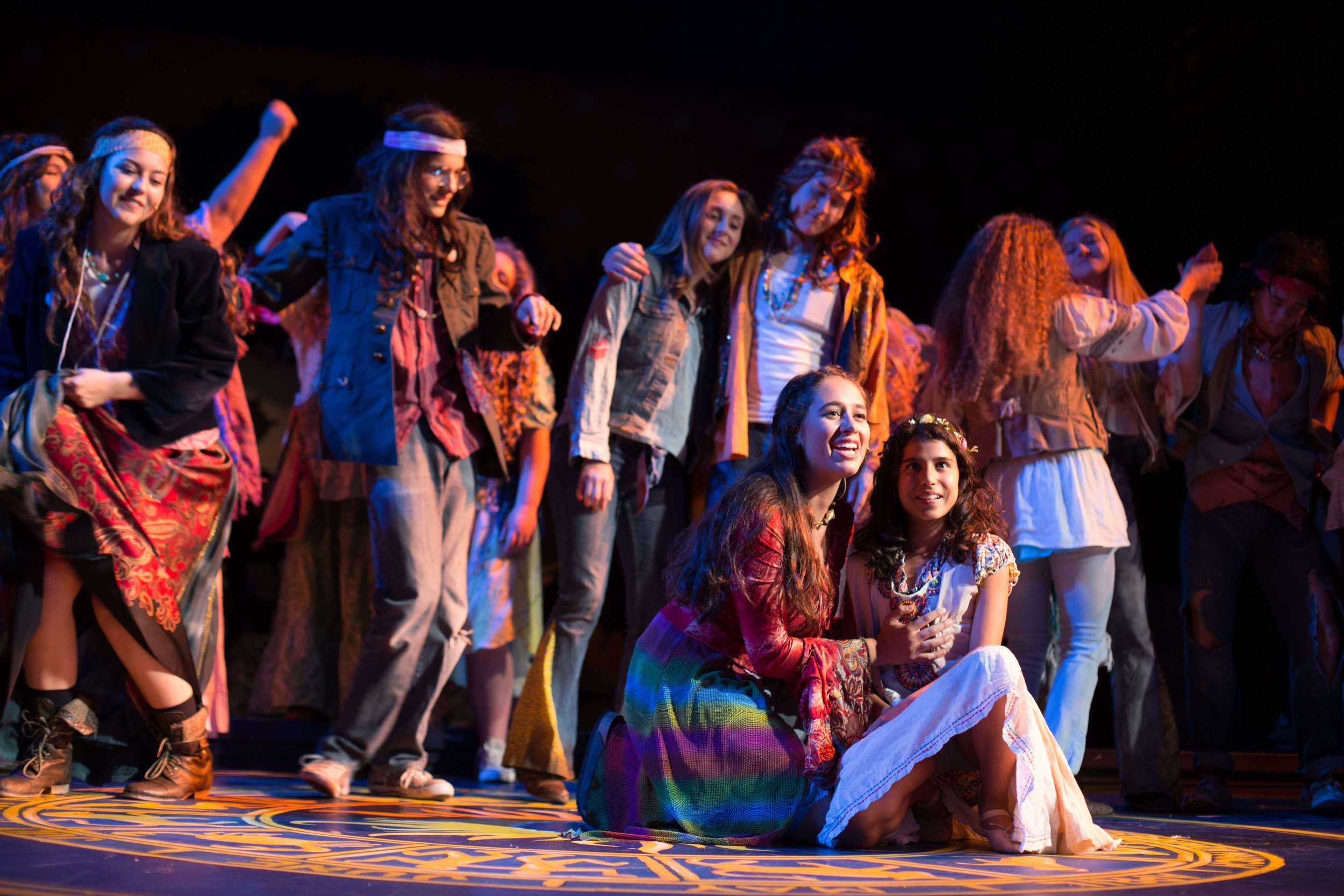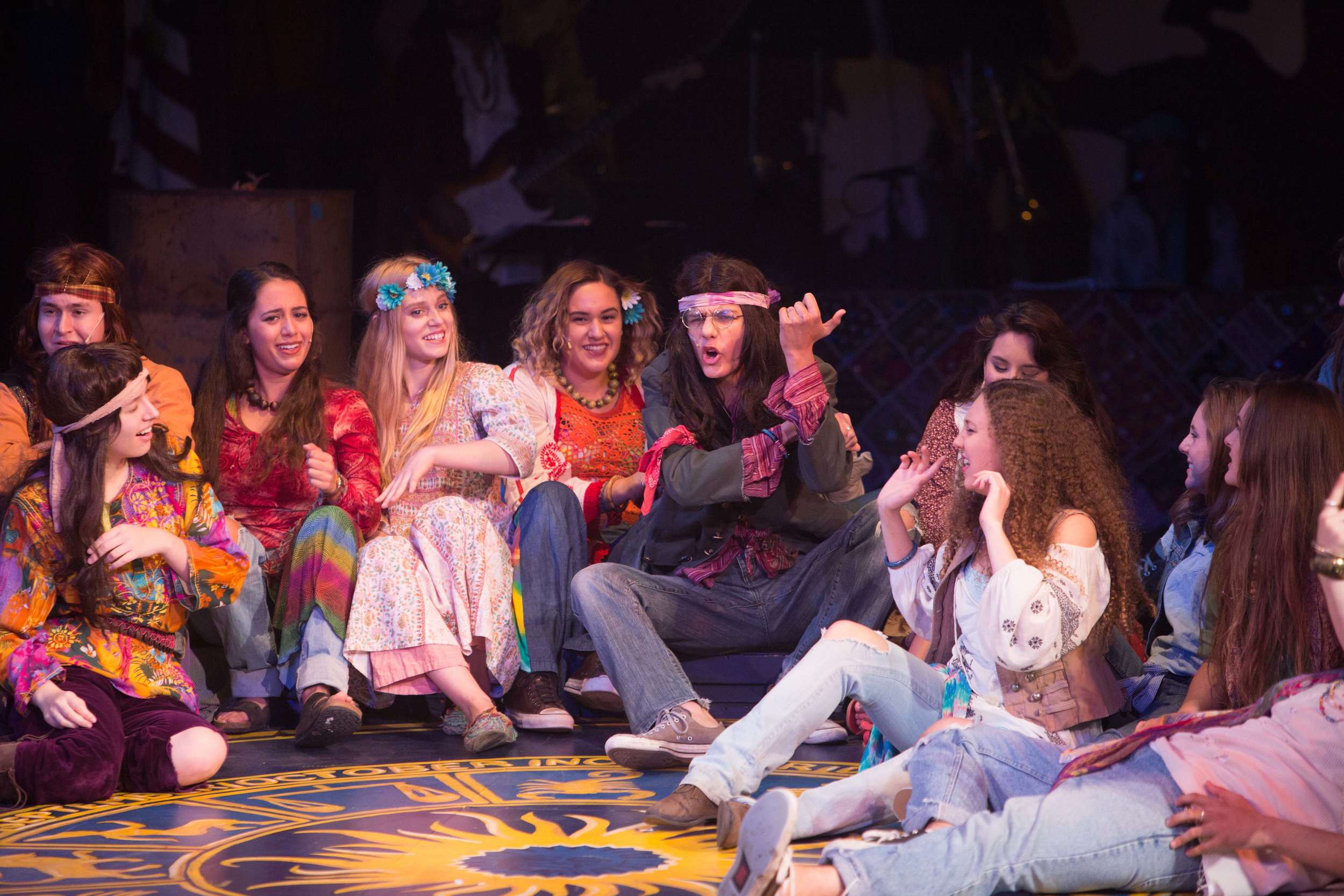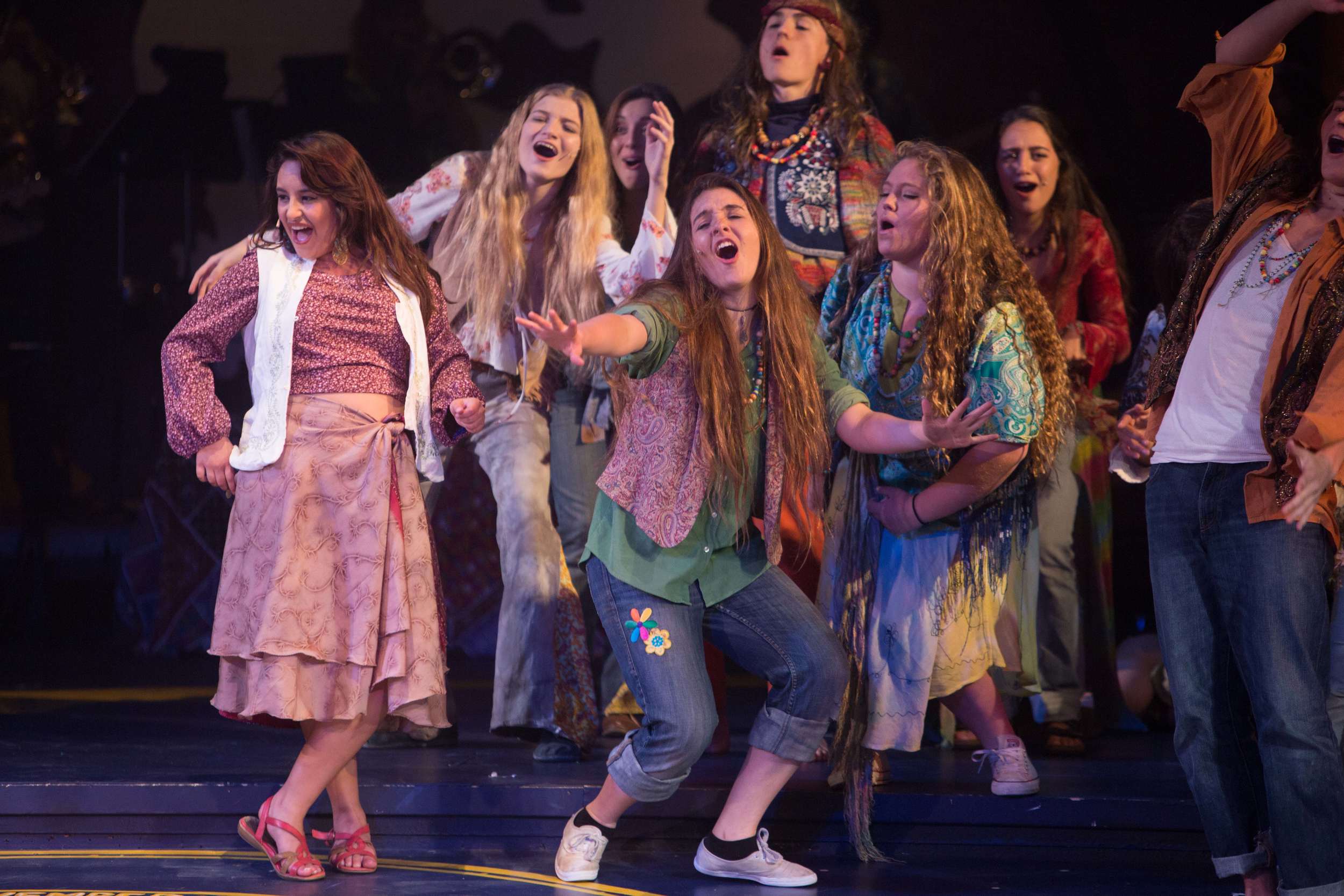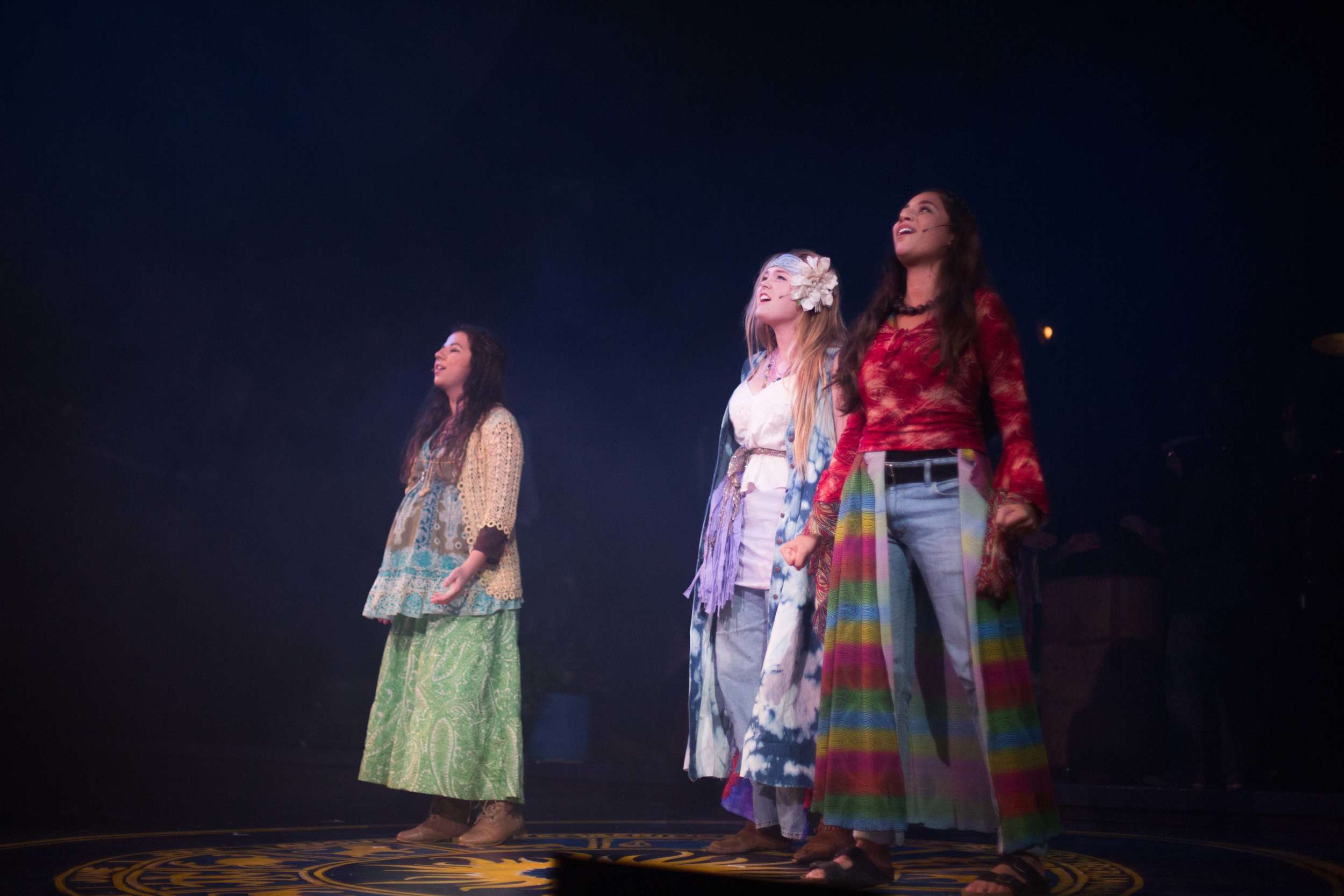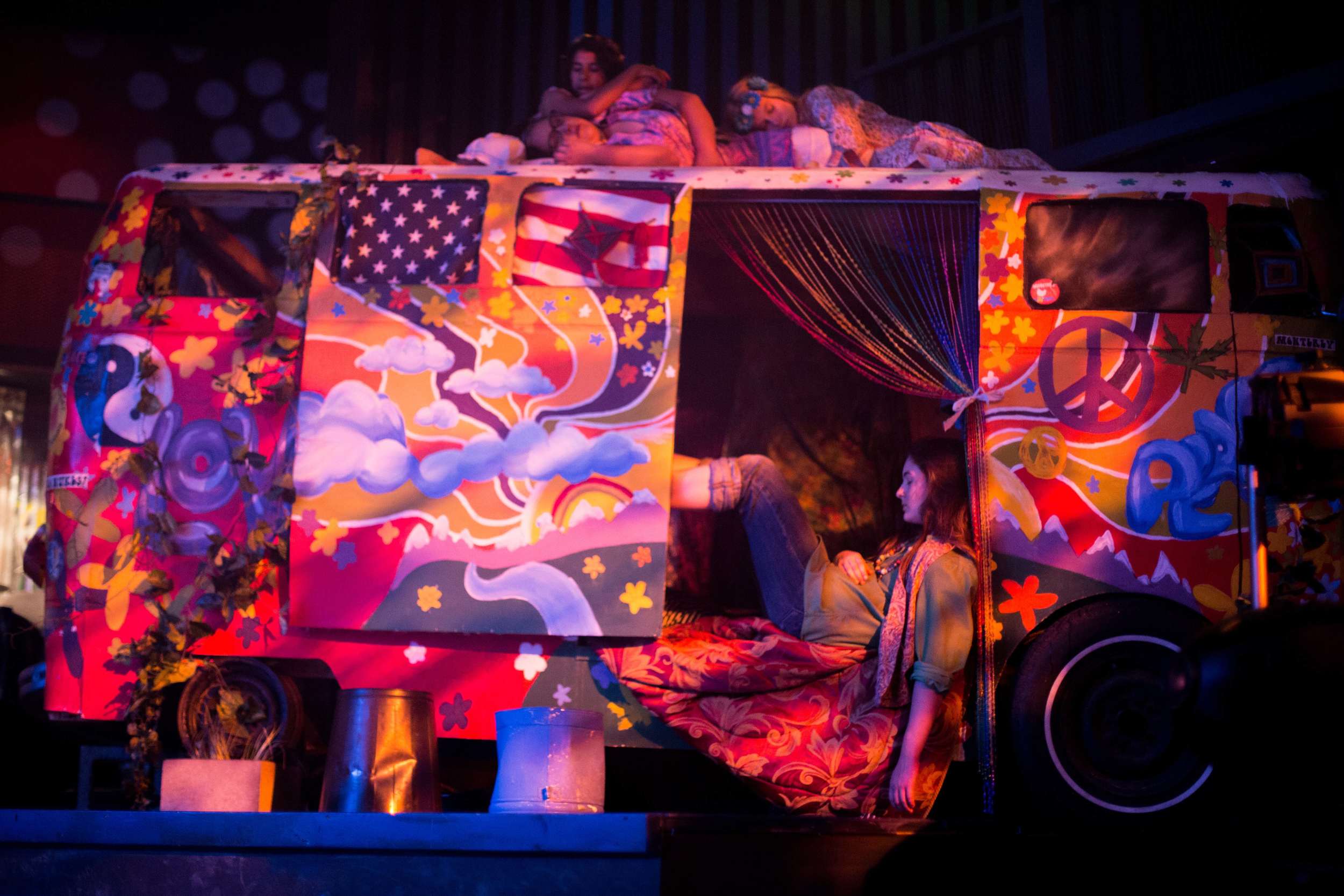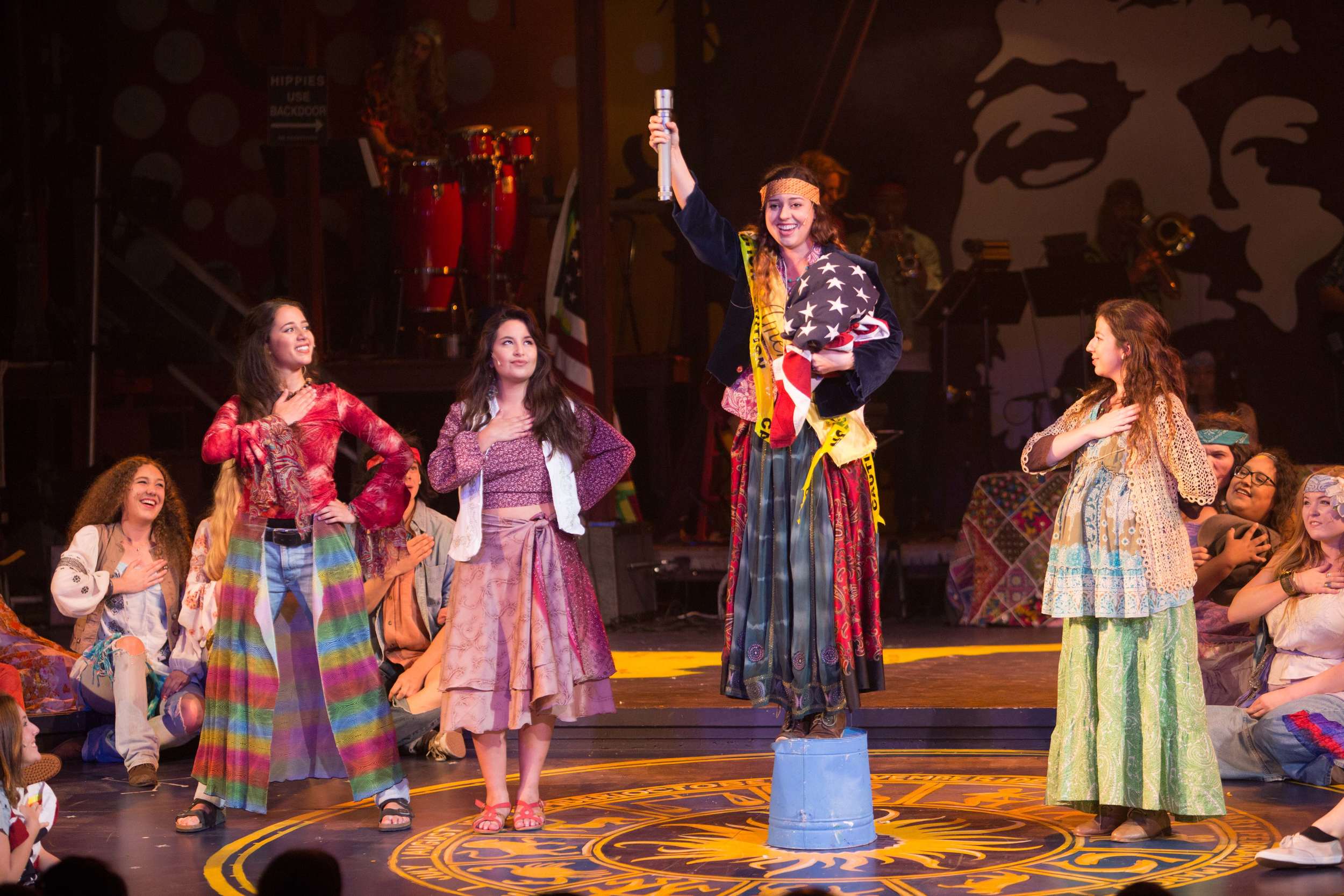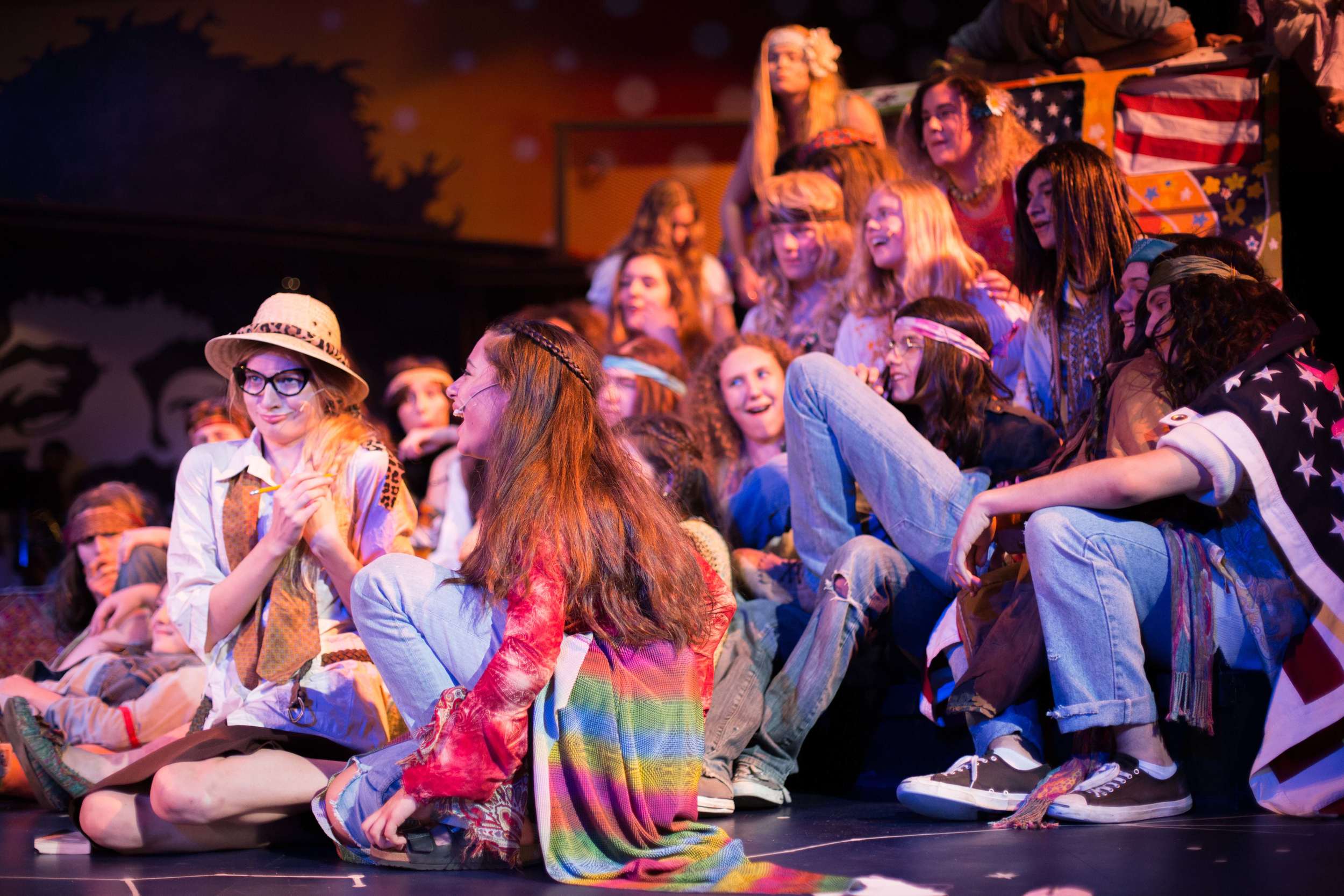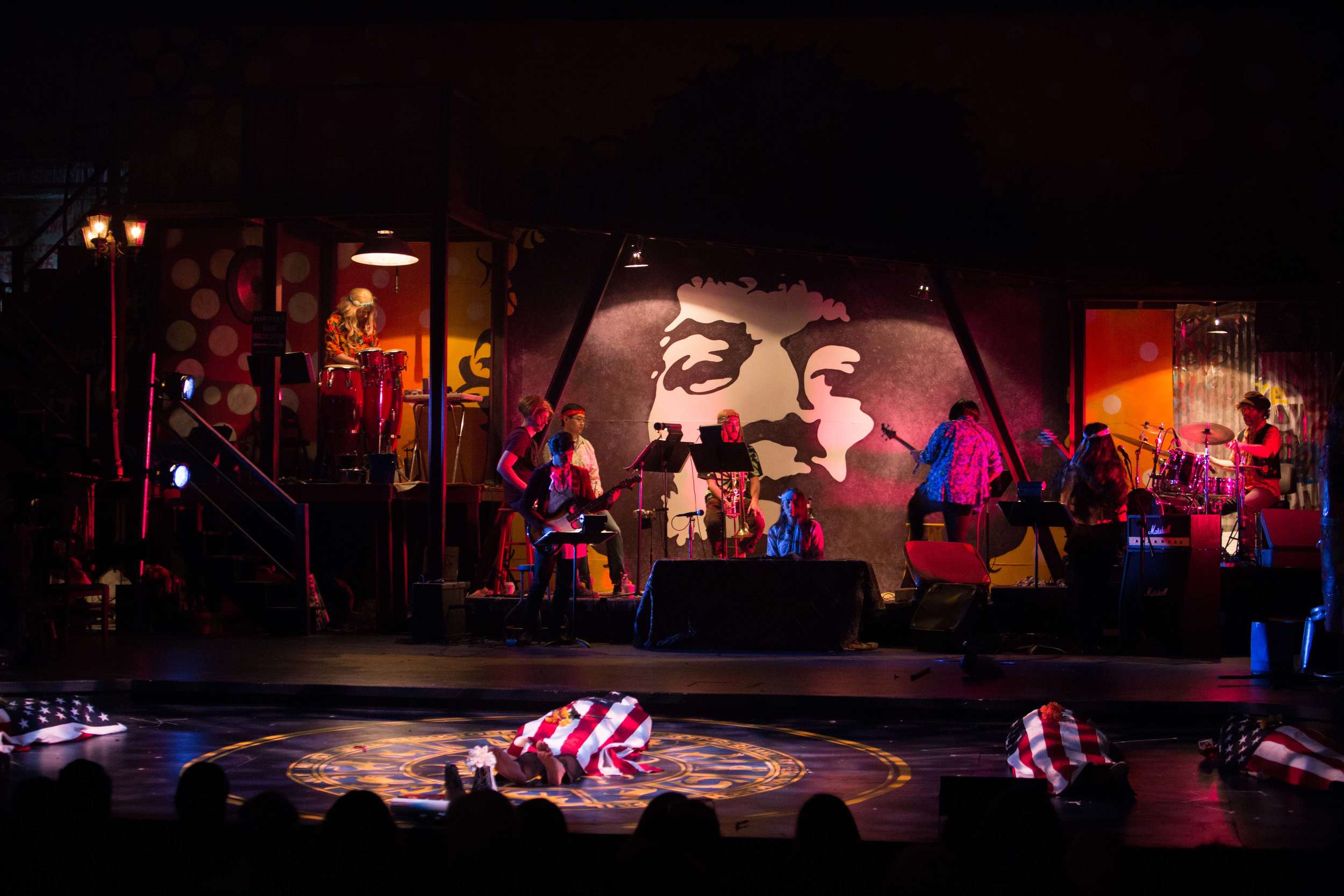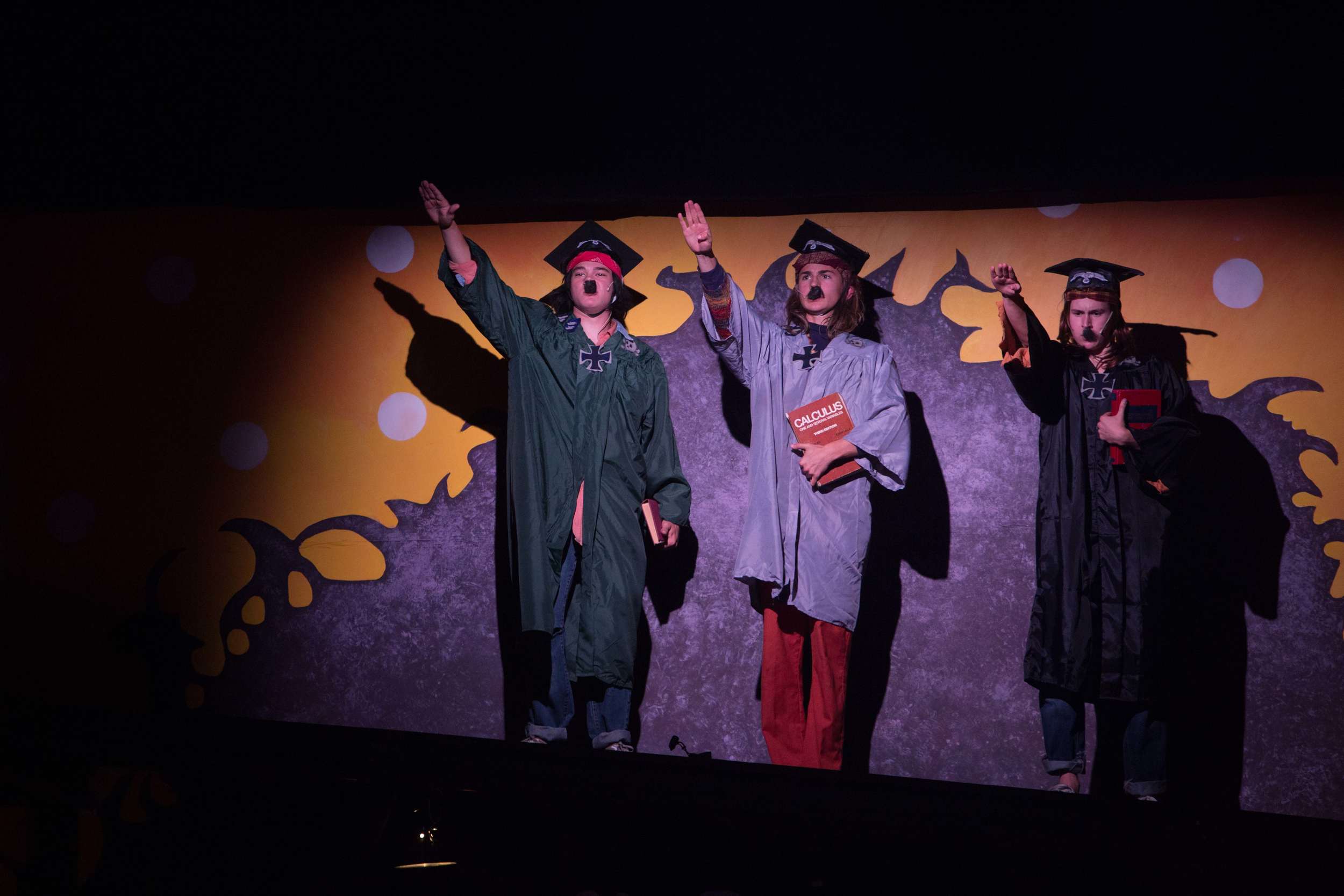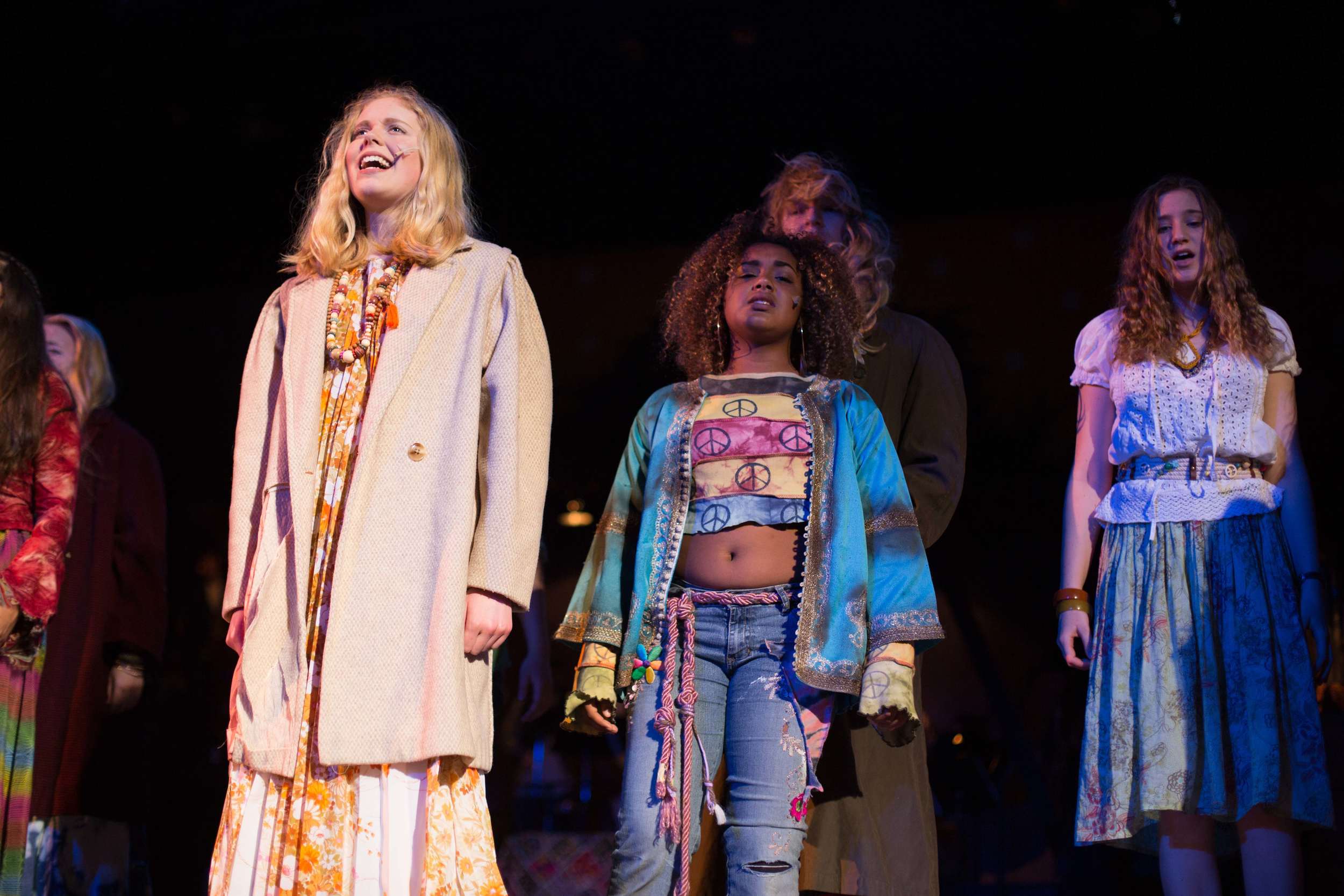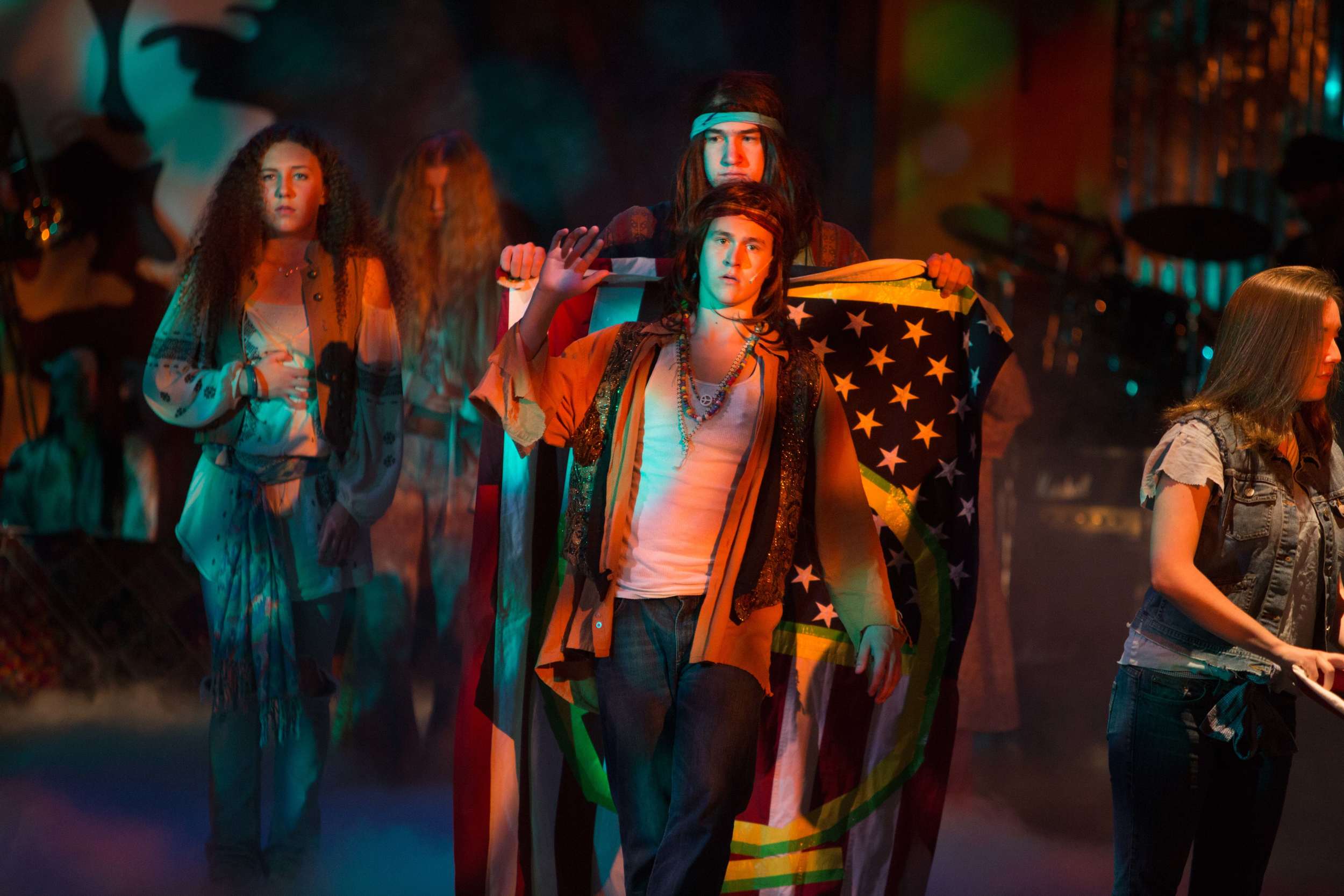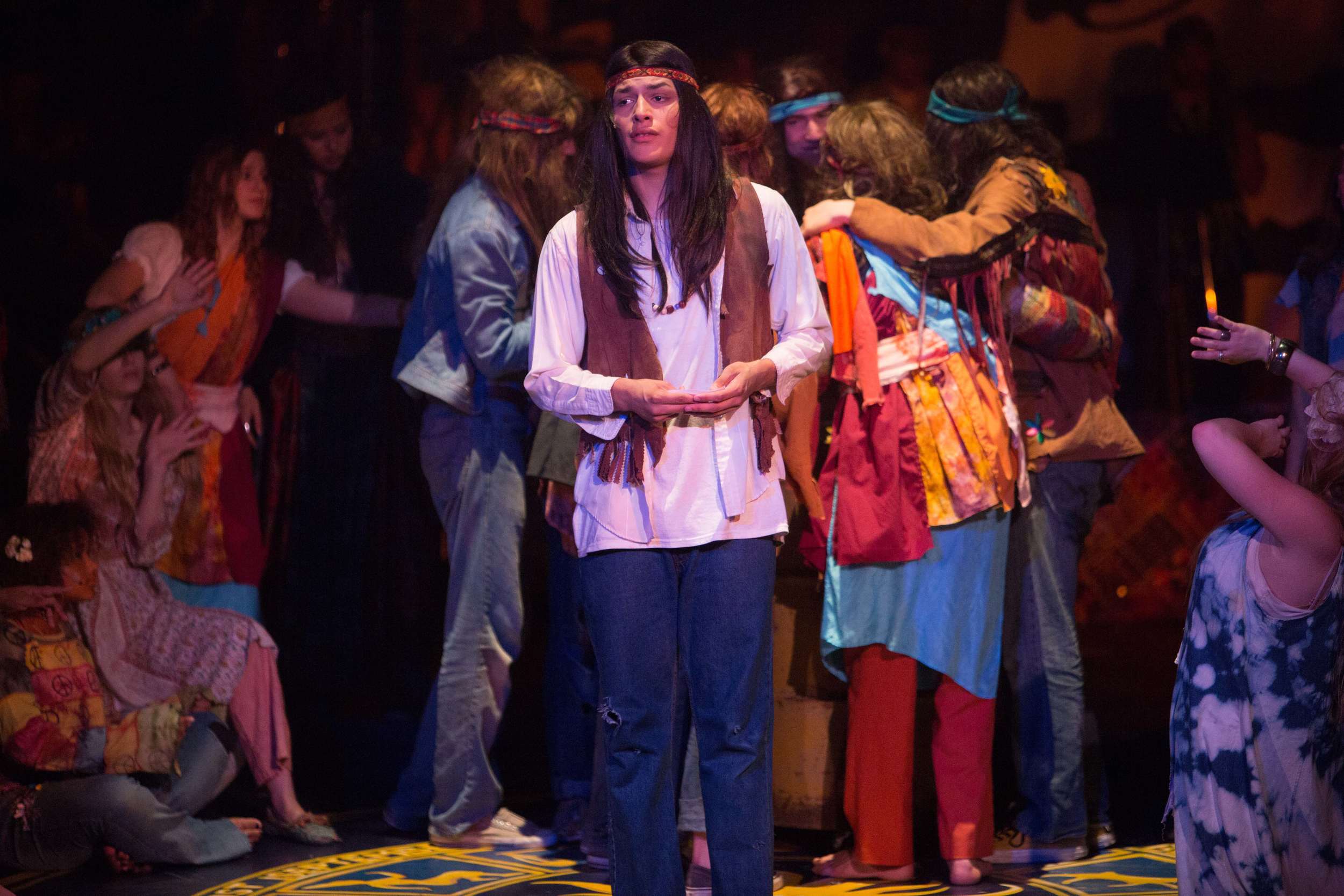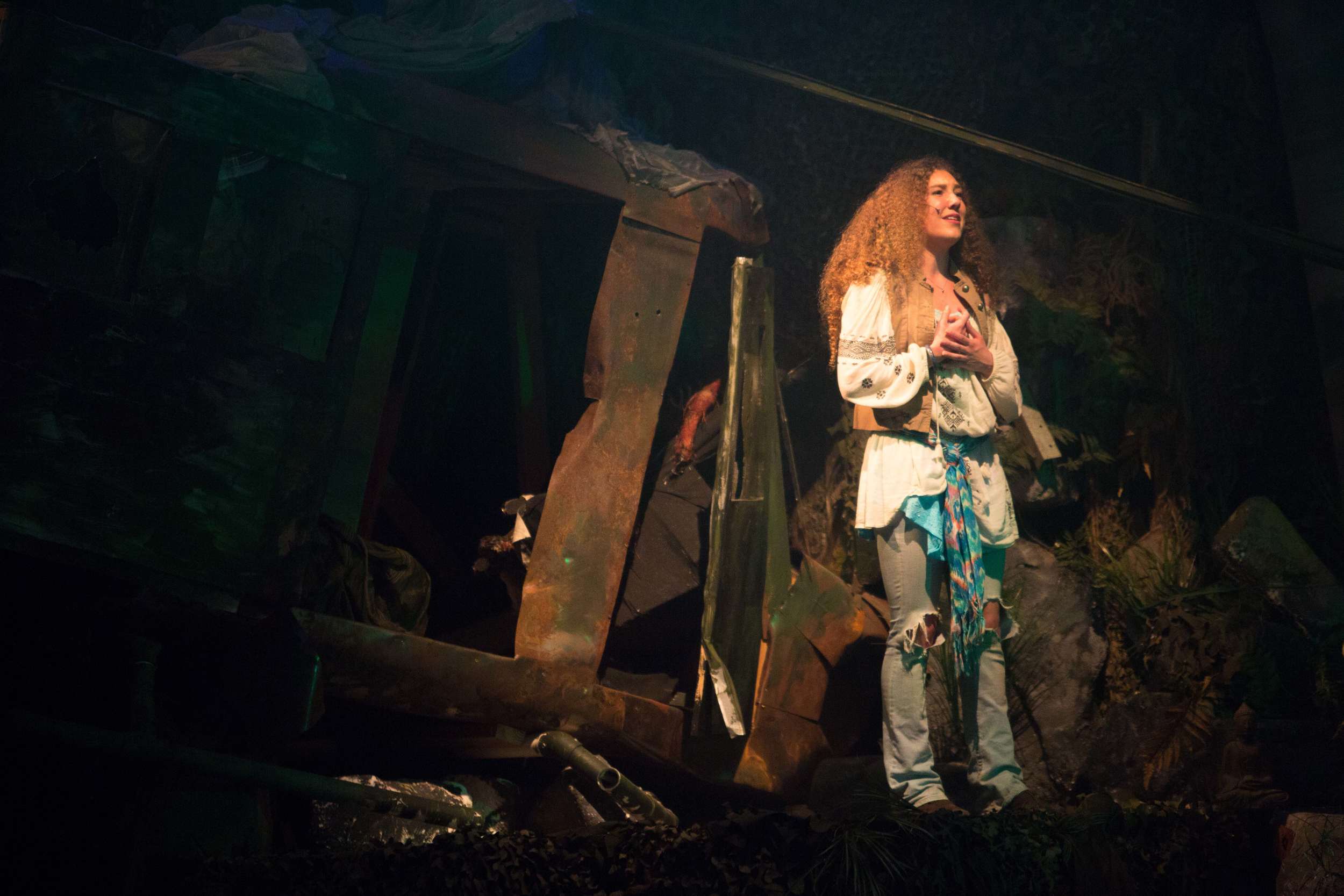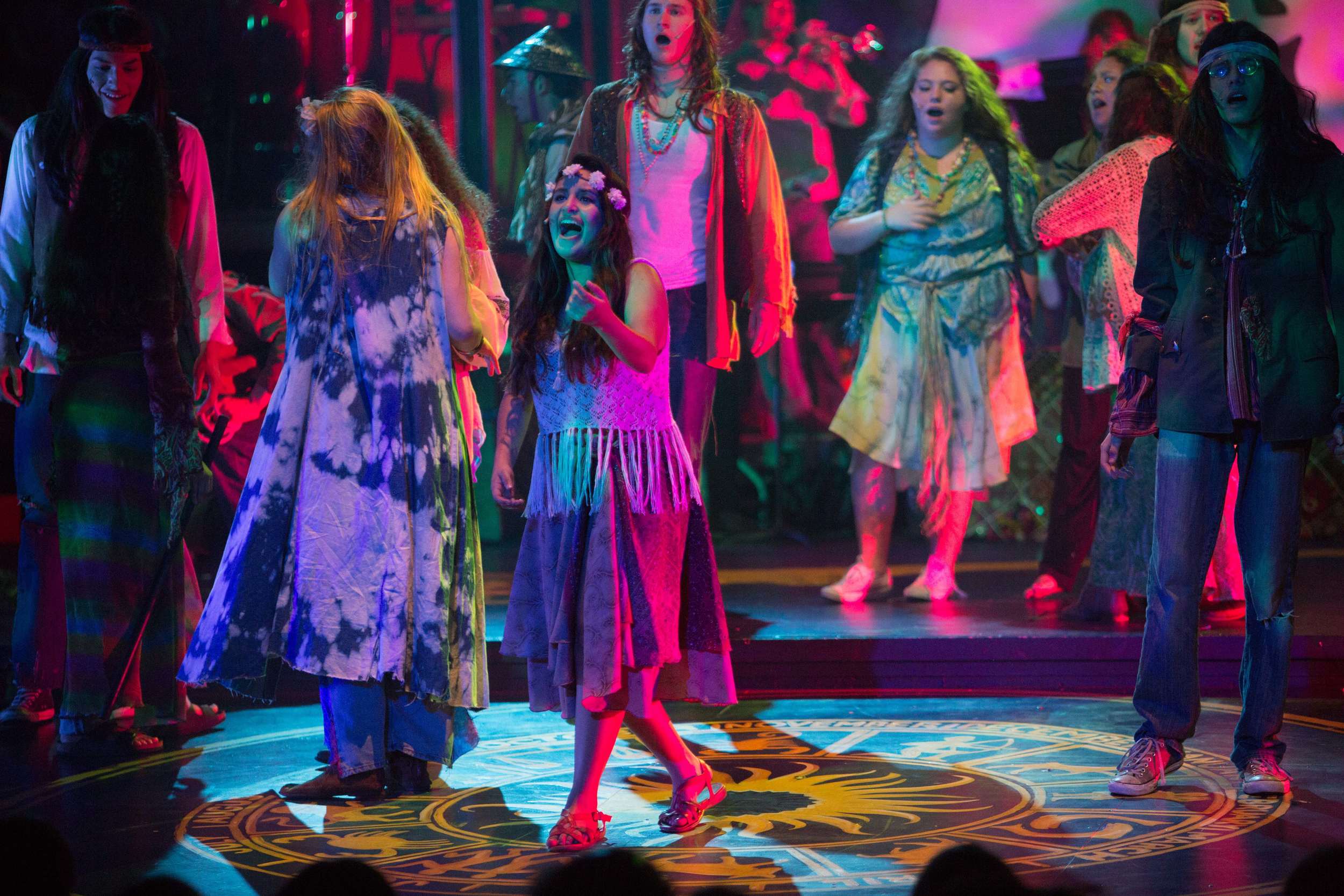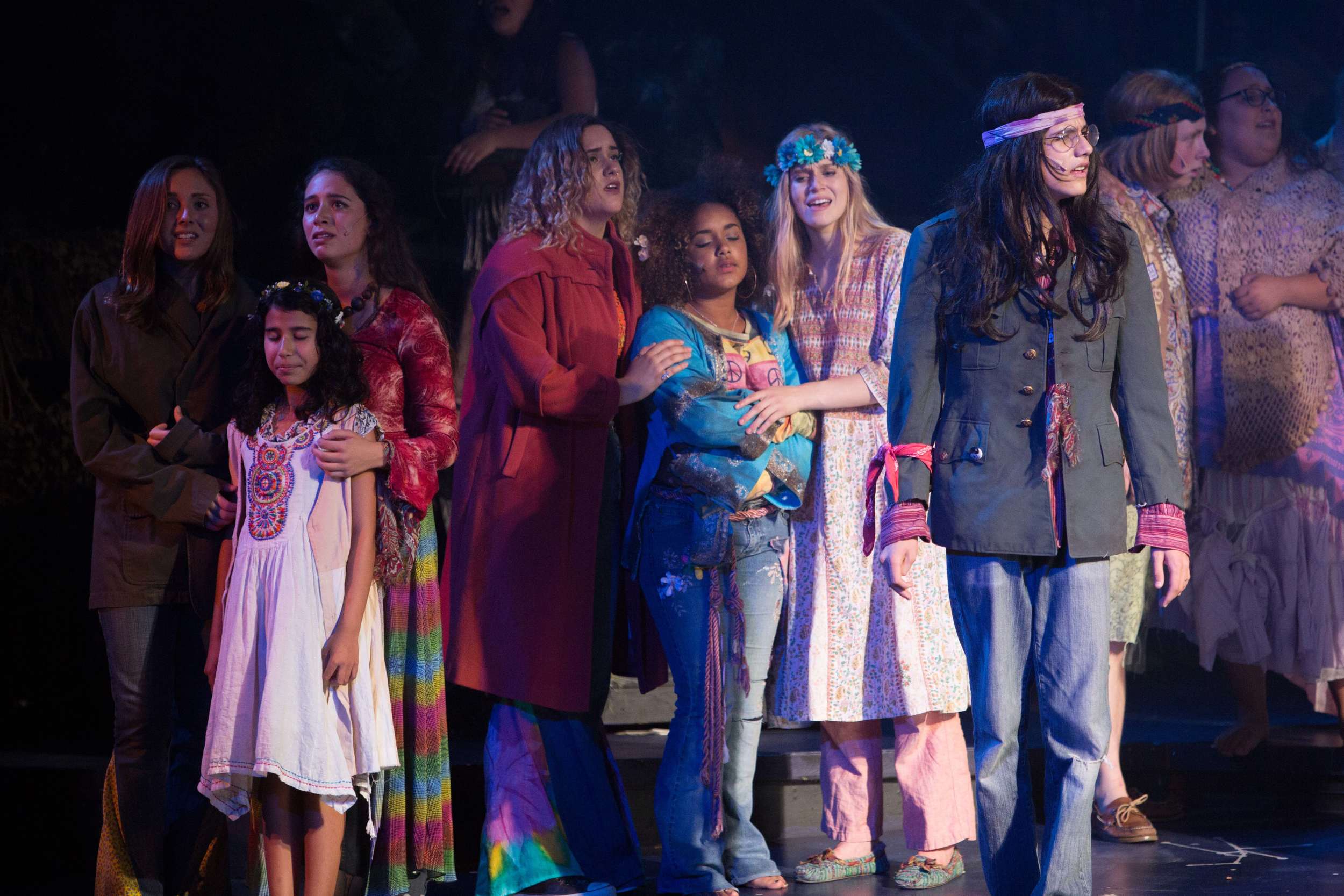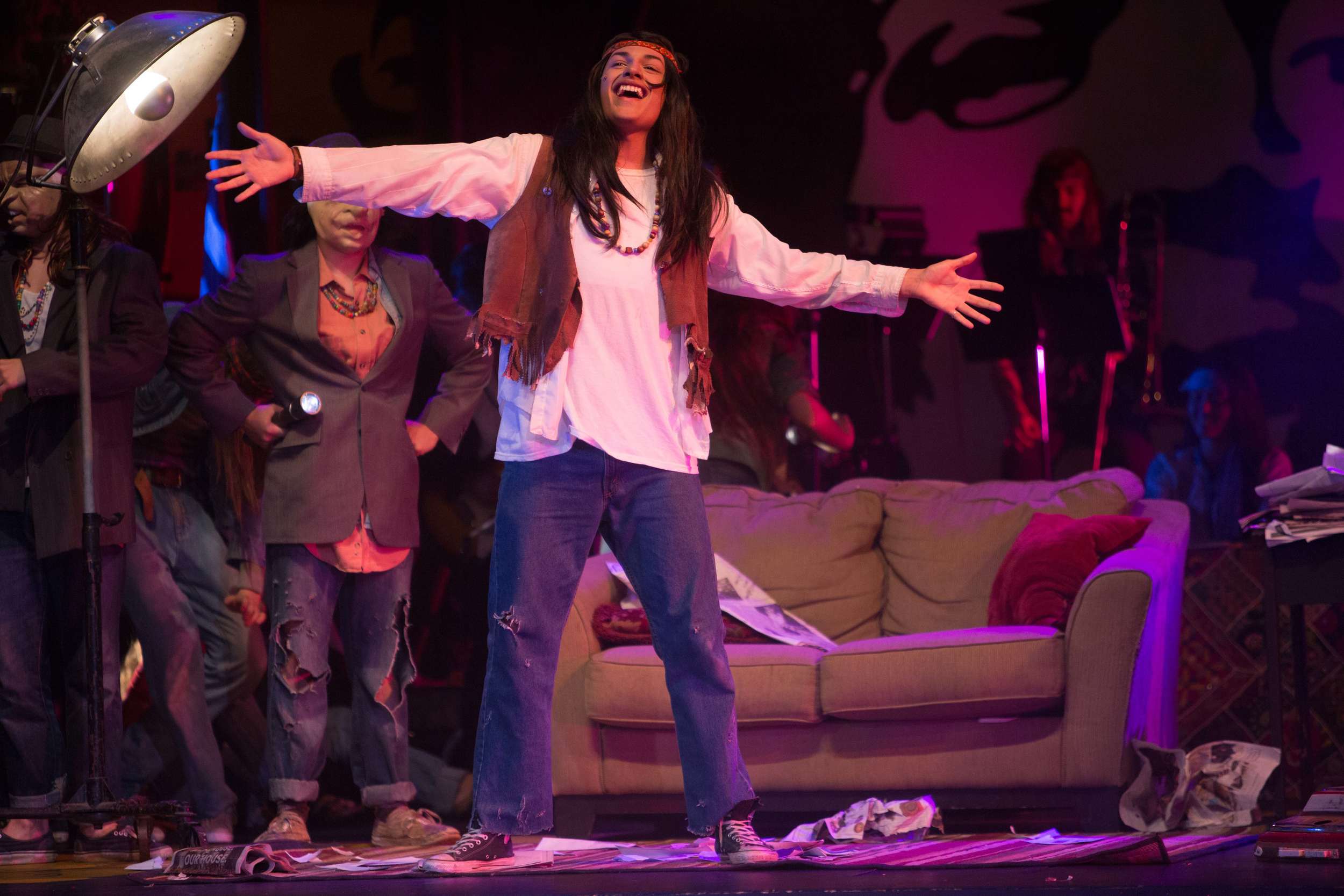 Photos courtesy of Isaac Hernandez and Rina Winter
Hair is sung from the voice of the "Tribe," a group of politically active, longhaired hippies who welcome the Age of Aquarius against a backdrop of bohemian New York City: exploring the questions at the heart of our lives, the weight of the decisions we make, and the ongoing paradox of fighting and freedom. Told from the perspectives of Claude, the "Aquarius" destined for "genius or madness," his good friend Berger, their roommate Sheila, and their friends, the Tribe struggle to balance their young lives, loves, and the sexual revolution with their rebellion against conscription into the Vietnam War and their conservative parents and society. Ultimately, Claude must decide whether to resist the draft along with his friends, or to succumb to the pressures of his parents (and conservative America) to serve in Vietnam; compromising his pacifistic principles and risking his life, and ultimately leaving us with the unanswerable question: To whom do we owe the greater loyalty—to ourselves, or the voices around us?
First produced by Santa Barbara High School Theatre in 2008 as a 90-minute touring production for the Edinburgh Fringe Festival, HAIR played to sold-out houses in its two performances at SBHS and received high honors in Scotland, echoing the original production's 1968 milestone opening on Broadway. Tackling explosive issues of the era in the innovative way that only theatre can, this brash and exciting musical sustained a five-year run at New York's Biltmore Theatre before eventually spawning fourteen national companies, eleven cast albums worldwide, and a wildly successful 2009 Broadway revival. After the production won the Tony Award and Drama Desk Award for best revival of a musical, Time magazine wrote, "Today Hair seems, if anything, more daring than ever." The time is now, and the place is here: come join SBHS students as they embark upon a journey of vulnerability, strength, and what it really means to be alive.
Director Otto Layman, now in his 20th year at the SBHS Theatre helm, has long wanted to explore this musical in a longer version with the accompaniment of a full band. Dr. Jon Nathan (Musical Director), a longtime faculty member at UCSB, will bring that vision to life with an all-star orchestra of UCSB students and professional musicians. Working alongside them are Choreographer (and 3rd generation SBHS alumna) Jenna Tico, Vocal Director Sio Tepper, Costume Designer Bonnie Thor, Technical Director Jonathan Mitchell, and Stage Manager Beau Lettieri.
Hair opens at Santa Barbara High School Theatre, located at 700 East Anapamu Street on April 29 at 7pm and continues with additional performances on April 30, May 6, and May 7 at 7pm, along with matinees on April 30, May 7, and a special closing matinee on Mother's Day, May 8 at 2pm. Regular ticket prices are $15.00 for adult general admission, and $10.00 for student general admission and $25.00 for reserved Orchestra seating. For tickets please visit www.sbhstheatre.com/tickets.